"Venom: Let There Be Carnage" Review
"Venom: Let There Be Carnage" has finally been released into theaters after multiple delays. 
The film stars Tom Hardy as Eddie Brock/Venom and Woody Harrelson as Cletus Kassidy/Carnage. Due to most of the local theaters being damaged because of Hurricane Ida, this will be a spoiler-free review for everyone who has not seen the new Venom sequel.
As a massive Venom and Carnage fan, I have to say, I was not exactly disappointed upon the film's conclusion. I am not saying that the film was a masterpiece by any means, but it surely was not a disappointment. Venom remains the scary and sometimes goofy character that he is from the comics, and this film definitely portrays Carnage as this outright demented monster.
The best way that I can describe this film is by calling it a romantic-comedy, which is kind of surprising. There are a couple of different love triangles within the film, however, the most interesting relationship in the film is not a romantic one. The relationship between Eddie and Venom is the most interesting one because they are two different entities sharing a body. 
Although this relationship is not a romantic one, their bond in the film goes through standard rom-com issues, which comes off as humorous at times, while also showing real-life struggles within a relationship.
The film's biggest weakness is its short runtime, however, this was intentional according to director Andy Serkis. In a recent interview with IGN, Serkis said, "We always wanted this film to be a real thrill ride and fast, muscular…not hanging around too much with exposition."
This is definitely true in terms of pacing and story. I felt as though some of the character's goals were never fully explained or the story could have benefited from fleshing out some of the characters a bit more. 
The ending and post-credits scene were easily the best parts of the film, and it sets up these characters for future installments in fun and exciting ways. It seems that Venom's next appearance will definitely be something special in terms of his character's story going forward.
Overall, this film was a fun, thrill ride. While it was not a great film, I think the film definitely has its moments that make it worth the watch.
Leave a Comment
About the Contributor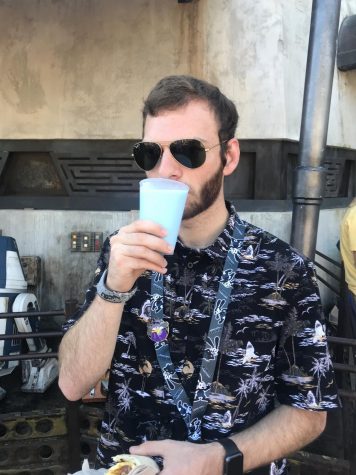 Owen Callais, Multimedia Journalist
Hey, I'm Owen! I'm a senior English and Film major. I love to go hiking and watch movies.

Fun fact: My role models are Steve Irwin and Forrest Galante,...