"Shang-Chi and the Legend of the Ten Rings" Review
Marvel's "Shang-Chi and the Legend of the Ten Rings" released earlier this summer to overwhelmingly positive reviews. With the film releasing soon to Disney+, now is the perfect time to revisit this film and understand why everyone is raving about it.
"Shang-Chi and the Legend of the Ten Rings" revolves around the Marvel character Shang-Chi (Simu Liu), as he struggles with the long and brutal legacy of his father, Xu Wenwu (Tony Leung). Wenwu is the leader of the Ten Rings, a criminal organization that has appeared in Marvel as far back as the first Iron Man film in 2008. 
The film's first and foremost priority is to really connect audiences with the Xu family, which is arguably one of the film's greatest strengths. The family consists of Shang-Chi, his sister Xialing (Meng'er Zhang), and their father Wenwu. Each actor brought something new and fresh to the family dynamic, and they truly made the film the success that it is. There is a particular family dynamic between these characters that is very unique to the MCU.
One could argue that even though Wenwu was marketed as the main antagonist, he was just a pawn of the true antagonist. Wenwu's goals were not to dominate or rule the planet, but something much more personal and emotional. Leung has opened up about approaching his character in a recent interview, as he said, "I've never approached Wenwu from a villain's standpoint." He continued, "He's a man with history, who craves to be loved. He is also human, and he has a family."
Other standout characters were Katy (Awkwafina) and Trevor Slattery (Ben Kingsley). Both characters served simultaneously as comic relief and characters going through their own personal journeys, struggling with their identities and realizing their potential. 
Another strength from the film was the fight choreography. In most other Marvel films, there are usually stunt doubles to do the fights for the actors, but in "Shang-Chi and the Legend of the Ten Rings", Liu did all of his own stunts, which is really impressive. There were also many long shots throughout the film during these sequences that add to the authenticity of the fight choreography.
It will be very interesting to see where these characters go next, especially considering the post-credits scenes. Simu Liu has definitely solidified Shang-Chi as one of my favorite characters in the MCU so far, and I cannot wait to see his next appearance in the Marvel franchise.
Leave a Comment
About the Contributor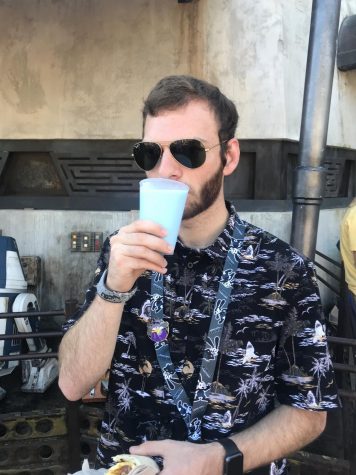 Owen Callais, Entertainment Editor
Hey, I'm Owen! I'm a senior English and Film major. I love to go hiking and watch movies.

Fun fact: My role models are Steve Irwin and Forrest Galante,...