#ShotAtNormal: Nicholls' plan to incentivize the COVID-19 vaccine
Nicholls State University has released a new programmed entitled, "#ShotAtNormal," as an incentive to take the COVID-19 immunization.
The Nicholls Shot at Normal is giving students a chance to win some exclusive prizes for getting the vaccine since it is Nicholls' top priority to keep the campus safe. Courtesy of several donors and campus partners, any student who decides to get the shot will be entered into weekly drawings for Apple Products, Nicholls V.I.P. Parking Passes, Smart TVs, New Orleans Saints Tickets, $100 Chick-fil-A Gift Cards and many more surprises.
To be eligible for this drawing, students must be fully vaccinated with the Pfizer/Moderna (2 shots), or the Johnson & Johnson Shot (1 shot) and must show proof of vaccination if they have received the shot outside of Louisiana. Lastly, they have to be a full-time student for the Fall 2021 Semester and complete the entry form online.
Communications Director Jerad David noted that the administration had been planning the incentive program for several weeks before it was released to the public. The idea came from another school, but Nicholls decided to put its own spin on the deal. Immediately when the email was published, students were already downloading the dissent form, which was their reason for not wanting to be vaccinated. For those not willing to get vaccinated, Nicholls State will have to require proof of doctor's note, negative covid test, religious reason, or be approved on the letter of dissent. If there is an outbreak on campus, it is noted that unvaccinated students will have to be moved online, to protect the remaining vaccinated students.
Two students with differing opinions offered to share their thoughts about the matter. Daja Paker, a Senior Political Science major and resident on campus, expressed that she believes Nicholls has great incentives.
"You can tell Nicholls values their students putting in high-quality giveaway prizes; they want to see change on this campus," Paker said.
When asked what prizes she was eyeing, she desired either the iPod Pros or VIP Parking on campus. She continued to express that unvaccinated students should not be on campus; rather, they should attend zoom to protect themselves and others who cannot get the vaccine.
The second student interviewed had a completely different view. Caden Burgard, a Freshman majoring in Pre-Engineering, recalled in his belief, "Nicholls is engaging in some form of bribery with the students to get the vaccine, and it is going too far…trying to persuade the students with material items."
But, if he was to get the vaccine and win a prize, he said he would most likely want the V.I.P. parking passes since he is a commuter. He lastly mentioned and stressed that he will wear his mask and abide by the rules, but if he does not have to get vaccinated, he is not sweating about the issue.
Dr. Michele Caruso said that she urges students to stay masked up because she also wants a life for the students and staff on campus. She also said that the administration is currently working on some incentives for the staff as well. She believes staying on top of this virus and reporting when you feel sick is the best way to keep the campus safe and open.
Regarding prizes, David said that the school is going to release two gamer headsets and a possible tuition deal for those entering into the drawing of vaccinated students. He continued to say most of their donations came from the Alumni Foundation, Sodexo and the Nicholls Foundation. David concluded, "Since the vaccine is fully approved, go get it, more than anything we want Nicholls to be a family again, we want to be back in person, that is what Nicholls is all about."
Leave a Comment
About the Contributor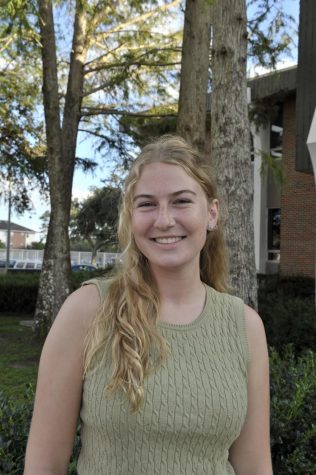 Delaney Ligori, Staff Writer
Hi! My name is Delaney Ligori, and I am a junior Mass Communication Journalism major with a minor in Film Studies. 

Top Favorite colors: Blue and Green

Comfort...