Tangled in a Trailer Web: "Spiderman: No Way Home"
The first look at Tom Holland's third Spiderman movie "Spiderman: No Way Home" was finally revealed on Monday, and it has left fans trapped in the spider web once again. 
The trailer opens up with a scene where Peter and MJ are on a rooftop as MJ (Zendeya) is reading an issue of The New York Post, which reports that Spiderman has the ability to hypnotize females. The paper has a headline that reads "Spider-Minions" which most likely talks about his best friend Ned and aunt May that are later interrogated. 
Peter's life has been thrown off-track after Mysterio revealed Spiderman's true identity at the end of "Spiderman: Far From Home." So, he turns to Doctor Strange (Benedict Cumberbatch) for help. 
As Doctor Strange is casting a spell to make everyone forget that Peter is Spiderman, Peter realizes that he might not want everyone to forget who he really is and mistakenly tampers with the spell mid-casting. The walls of the Sanctum collapse immediately, and in the background, we see a purple void that we recognize from "Loki" as the space beyond timelines. Peter and Doctor Strange then see rainbow streaks, which could mean those are the branches of alternate realities forming, opening the way to the multiverse. 
There have been many rumors that in this movie we will be able to see different versions of Spiderman from different realities. This includes both Tobey Maguire and Andrew Garfield's version of Spiderman. Even though we do not see them in the trailer, we do see hints of Miles Morales and what could be several members of the Sinister Six. 
We also see electricity striking a car that could suggest Electro's presence, a dark hand that could belong to Lizard or Venom, and a cloud of Sand that could be Sandman. Next, we see Green Goblin's pumpkin-shaped bombs from Tobey Maguire's Spiderman films right before Doctor Ock says "Hello Peter."
Although it is still unclear whether Willem Dafoe will return as the Green Goblin, it is evident that Alfred Molina will be returning to the role of Doctor Otto Octavius. 
After the events of Wandavision, many fans have taken after the theory that Mephisto might be involved in this movie as well. One thing that makes fans think this, is the wink that Doctor Strange gives Peter when Wong tells him not to try that spell; the wink seems to be very Agatha Harkness-like.
However, we do know that Doctor Strange's personality is a lot like Tony Stark's where they think they are capable of almost anything; especially after defeating Thanos in "Avengers: Endgame."
Hopefully, we will get to see an official trailer soon, but until then, we will have to keep waiting for the release of the film on Dec. 13. 
Leave a Comment
About the Contributor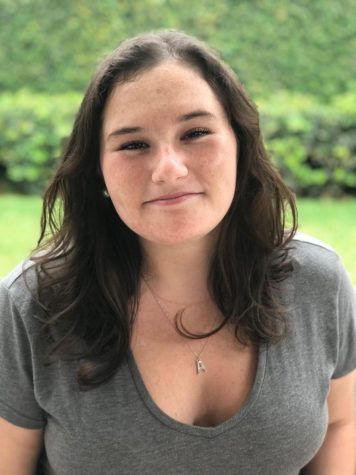 Alexia Castellon, Print Managing Editor
My name is Alexia Castellon. I'm a Mass Communication senior with a concentration in PR. I was born and raised in Nicaragua, and I am fluent in Spanish...