Student Voices: COVID-19 vaccine mandate
COVID-19 vaccinations have been around since January of 2021, and even with over fifty percent of Americans being vaccinated, there are still many citizens opposing the vaccine. With COVID-19 cases climbing daily and mask mandates being enforced in schools, businesses, and other public buildings across the state of Louisiana, the topic of the vaccine being mandated is increasingly popular.
In the state of Louisiana, immunization mandates are already in place for the city of New Orleans. On Monday, Aug. 16, proof of full vaccination or a negative COVID-19 test within the last 72 hours became a requirement to visit all public facilities.
On Aug. 2, Nicholls State University released information from the University of Louisiana System regarding masking and vaccination mandates. President and CEO of the UL System, Dr. Jim Henderson, wrote the following: "For students, we have petitioned the Louisiana Department of Health to add COVID-19 vaccination to the required immunization schedules at all nine of our member institutions upon FDA approval of one or more of the vaccines. We expect FDA approval in the coming weeks, and all universities will communicate the new requirement to continuing and entering students now for planning purposes."
This news created controversy for many college students. With approximately 48 percent of Nicholls students being vaccinated, the university is rather divided on the matter of the immunization.
Fully vaccinated freshmen Mercedes Bella and Taylor Chiasson, both journalism majors from Thibodaux, Louisiana, said they would feel a lot more comfortable being on campus if everyone were fully vaccinated.
"There is really nothing to fear when it comes to this vaccine," Chiasson said. "You are not only helping yourself by getting it, but you are helping everyone else as well."
Courteney Dufrene, a junior pre-professional chemistry major from Raceland, Louisiana, has done extensive amounts of research on the vaccine. When asked about how she felt about all the misinformation spreading, she said she felt very irritated.
"As a Chemistry major who has thoroughly done their research, it really upsets me to see people trusting some random person on Facebook over the World Health Organization and the Center of Disease Control and Prevention, who both have worked on the vaccine since the SARS epidemic in 2008," Dufrene said.
Student Body President and MBA student Tyler Legnon from Gibson, Louisiana, stated something similar to Dufrene in terms of trusting science and not unqualified individuals.
"The student body needs to be aware of their surroundings," Legnon said. "Don't trust everything you see on social media."
Even with these several students being positive about the vaccine, there are students that are still somewhat hesitant about receiving it.
Senior music education major Mallory Perry from Patterson, Louisiana, and junior music education major Selathian Miller from Houma, Louisiana, both felt weary about receiving the vaccine due to the immunization not being out for very long.
Perry was also concerned about getting COVID-19 even after receiving the vaccine. Miller fully agreed with her, stating that once the FDA fully approves of the vaccine, both of them will feel more confident about eventually receiving the immunization.
Ashlynn Guidry, a freshman education major from the Lafourche Parish area, stated she felt that mandating the vaccine is unfair for students that cannot get the vaccine for certain reasons.
"We are paying thousands of dollars for an education, and to be forced to take a vaccine in order to have an education is unfair," Guidry said.
Leave a Comment
About the Writer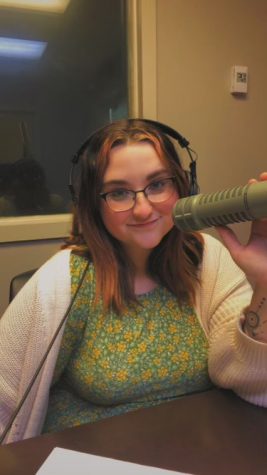 Miranda Danos, Staff Writer
I am a sophomore Mass Communications major with a focus in Journalism and a minor in Literary Studies. When I graduate, I plan to move to Atlanta and strive...