Kickin' it with Coach Podeyn
"Every Ball, Every Play, Every Second, Every Game" – Robert Podeyn
On Tuesday, Aug. 17, 2021, Nicholls State University held a press conference to introduce and welcome Robert Poedyn, the new women's soccer coach.  With the support of his team and family, Podeyn discussed his experience in coaching and his plans for the upcoming season.
Prior to joining Nicholls, Podeyn had many experiences in coaching soccer. He has coached soccer for 35 years (22 years at the college level). His experience expands across several regions around the United States.
Podeyn started out at as a Division I volunteer at the University of Central Florida, then accepted his first head coaching job at William Wood University in Missouri, where he coached both men's and women's soccer for three and a half years.
From there, he was recruited to coach in Texas at Northwood University, where he coached for another three years.  Podeyn then moved back to Missouri to coach at Southwest Baptist University for a little over six years until his two sons decided to move to California to pursue their careers and education.
In support of their two sons, Podeyn and his wife, Sondra, moved to California.  While in California, Podeyn coached at Fresno Pacific for six years until the opportunity to coach at Nicholls became available.
Podeyn has led multiple teams to victory, such as Fresno Pacific, and saw Nicholls as an opportunity to "do what he's done elsewhere."  There were many things that attracted Poedyn to Nicholls.
"I was impressed with the leadership at Nicholls, the changes they were looking to make, the additional facilities that would be available for soccer and I like the direction they want to take the soccer team," Poedyn said.
Last season, the women's soccer team did not experience a winning season, which was discouraging to some players, but Poedyn is ready to combat this and turn it around.
"The biggest challenge I will face this season is helping the team believe that every time they step on the field, they are capable of winning because that is hard to do with a team that hasn't had that experience and success," Poedyn said.
Additionally, the women's soccer team lacked the structure, organization, and the overall comradery needed to succeed.  This is another challenge Podeyn will face this year.  However, his excellent leadership skills and mentorship have already earned the team's respect.
Koryn Barrett, a co-captain of Nicholls women's soccer team, said, "We never really had a true leader, and he came in and made that his position."
Podeyn uses his leadership skills to push the team physically during practice.  For example, at the start of practice, the team must complete fitness tests that are very challenging. However, Podeyn uses this as a team-building exercise.
Caitlin Green, another co-captain of the women's soccer team, explained how Podeyn emphasizes during practice how they are doing everything together, with each other, and explains how it's not what they are doing, but how they're doing it together.
Not only does Podeyn push his team physically, but mentally as well, improving the team's comradery.  Green says the game has become just as much a mental game as a physical game when it comes to Podeyn's coaching because he constantly reminds them that they have the ability to win.
Soccer has given Podeyn so much in life that he says he feels compelled to coach the sport and feels like it is where he belongs.  To him, coaching means a lot personally.
"Coaching allows me to give back to the community that has given me so much." Podeyn says.
Leave a Comment
About the Contributor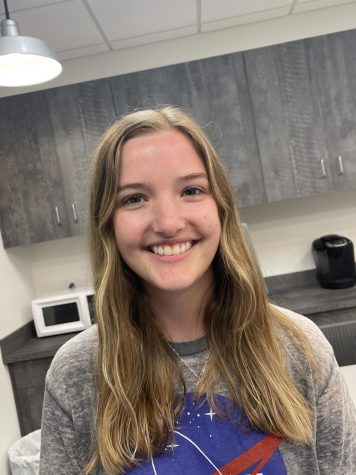 Raegan Chiasson, Social Media Manager
I'm a Marketing major with a concentration in advertising. I'm from Thibodaux.

Fun fact: If I could travel anywhere in the World, it would be Greece.