Three Nicholls CROWN mentees rewarded paid Summer internship
It was announced that three members of the Colonels Retention of Winners Network were accepted into the Advanced College Summer Enrichment Program at Howard University, College of Pharmacy Center of Excellence.
This four week free program will allow these mentees to encourage young under-represented minority students to pursue careers in pharmacy or other health professions.
This program will also allow an opportunity for young under-represented minority students to develop mentoring relationships with current minority health professionals and graduate health professional students and to facilitate entry to the Doctor of Pharmacy Program. 
Each mentee will also receive a $3,000 stipend for the completion of the online summer program, from May 17 to June 18 of this year. 
Mass Communication Assistant Professor & CROWN Coordinator Farren Clark provided more information on these achievements, first giving a brief overview of the program's background. 
"CROWN was started in 2018, and our mission statement is to create a structured environment to retain first-year black male, non athlete freshman, and to increase graduation rates," Clark said. 
Moreover, Clark explained that by exercising empathy for their unique experiences and needs, this program also seeks to acknowledge, challenge and connect these participants to a supportive collegiate network.
Further elaborating the program's stellar mission statement, Clark said that through wraparound services, participants are able to develop self-management through modeling and mentoring; to actualize their distinct voices through academic exploration, leadership experiences and creative expression; and to build lasting connections that cultivate momentum towards their purpose. 
As Clark mentioned that these lasting connections that are being formed are between the mentees and the mentors, upperclassmen are present to form a partnership in order to help these freshmen mentees through their first year here at Nicholls. 
Additionally, as CROWN is an academic program, Clark said that it goes beyond this and its location here on campus. 
Clark also gave an overview of Howard University and their program for the Center of Excellence's goals. Being funded through the Department of Health and Human Services and was established to assist designated health profession schools, and other public or nonprofit or educational institutions strengthen the national capacity, to produce a culturally competent health care workforce, whose diversity is representative of the U.S population. 
"As coordinator for CROWN, one of my main concerns has been just making sure that the guys have outlets to be able to take care of things like books and some of those hidden fees that sometimes come with these textbooks, not being able to access those online platforms," Clark said. 
In turn, Clark said that in connecting with Howard University, through the college of Pharmacy and through the ACSEP program, this internship will allow these individuals to consistently learn in the field that they will be studying, as well as to make connections with professionals working in the field. 
"With us being in our third year, this is the first time that CROWN has branched out to another school, and specifically to a prestigious school like Howard University, crossing state lines. I'm very proud of these guys for following through with all the things that were required of them, whether that an application, or the different things that they had to present to the college to be chosen, in the midst of experiencing their first year at Nicholls," Clark said. 
Donald Larvadain of Thibodaux expressed his appreciation for CROWN, with the fact that it has helped him stand out. With a major in biology and a minor in psychology, being the only individual with a major in biology, he stated that he feels like this gives him the opportunity to be an inspiration to other African American males in CROWN. 
In discussing his personal inspiration for his career journey, Larvadain listed his mother, as she has served in the healthcare field for most of her life. 
As for being accepted into the internship program, Larvadain explained that he was very excited. He said that he knew he was going to be accepted, having received most of the recommendations. 
For his future, Larvadain mentioned that he plans on joining the medical field, becoming a doctor. Still uncertain about which area of focus he wants to pursue, the two that come to mind are physical therapy and dermatology. 
Carlo Lumpkin of the small town of Cocteau, New Iberia, was next to give his perspective, stating that he is currently at Nicholls in pursuit of a bachelor's degree in the science of nursing. Originating from Westgate High School, he grew up the last child of 6, with an interest in sports, as well as anime, lifting weights and food. 
Lumpkin said that the CROWN organization has been beneficial to him in the fact that it has helped in adjusting to campus life. He said that CROWN makes him feel like he is not alone, with other people experiencing the same things. 
In stating that CROWN has shown him that there are many resources available on campus for him to use, Lumpkin also explained that Mr. Clark helps encourage them to work together and to find outlets for their emotions. 
With the gratitude that he feels towards being accepted into the ACSEP program at Howard University, Lumpkin hopes to own his own clinic one day, as well as to serve as a positive role model for people like him in the future. 
George Lafargue III of New Orleans admitted that he was also a bit overwhelmed when he first arrived at Nicholls. With a major in biology pre-med, Lafargue stated that it felt like a brand new world to him, not knowing anyone. 
Lafargue continued by explaining that CROWN helped to change this. At first, Lafargue thought the organization was just going to be one where he'd be expected to show up, clock in and clock out. 
Fortunately, Lafargue found CROWN to be more like a brotherhood. He explained that they act as actual brothers, caring for each other, as well as checking in to make sure that they are all doing what they should be doing. 
He said that as the brotherhood of CROWN holds each mentee accountable, they just want each other to succeed. 
Larfargue stated that this has benefited him in the fact that he's been pushed to be his very best. 
He accredits most of his inspiration to his father's best friend– who he considers an uncle. Working as a Urologist, Lafargue stated that he has always been a very big role model and helped him a lot in deciding what he wanted to do. 
As for Lafargue's plans for the future, he hopes to first graduate from Nicholls, and then be accepted to and complete medical school. Moreover, Lafargue plans to work as an Anesthesiologist. 
Leave a Comment
About the Contributor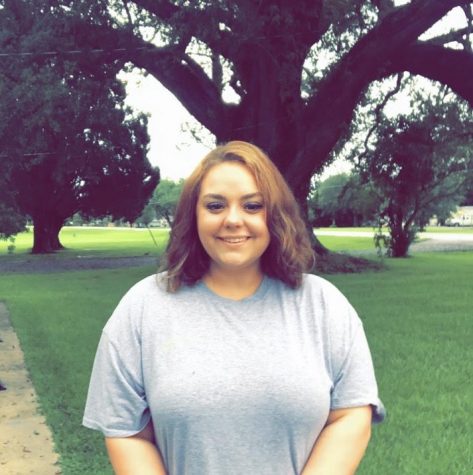 Haley Landry, News Editor
Fun Facts:

Traveling to Greece is fairly high on my bucket list.
If I were a Starbucks flavor, I'd be a white chocolate mocha—mainly because...