Best Rom-Coms Of All Times
If you're in the mood for movies with love stories, good laughs and a comforting feeling then you're probably looking for a good rom-com. No matter what you're doing, whether it is with friends, family or by yourself with a tub of ice cream, romantic comedies are always a good idea. So, here are some of the best classic ones ever made. 
10 things I hate about you 
Not only is this movie amazing because it stars a young Heat Ledger, but it also includes the best rom-com movie scene ever where he sings "Can't Take My Eyes Off You" and puts on a whole performance to get the girl back! 
Let's face it, we all dream about being "thirty, flirty and thriving!" In this movie, Jennifer Garner and Mark Ruffalo show us how careful one should be about what they wish for and how important it is to keep real friendships. My dad always says "a girl and a boy can never be friends and not have any feelings for each other," and well the movie kind of proves his point. 
Watch Reese Witherspoon play Elle Woods while she rocks Law School wearing iconic pink outfits next to her chihuahua. Elle Woods proves that anything can be done with the proper determination. 
Your night can never go wrong with some ABBA sing-along. "Mamma Mia" is the perfect rom-com because it has music, love stories for every age, relatable and hilarious scenes. This movie is perfect for screaming around the room singing along to "Dancing Queen" and if you're left wanting more, you can always watch "Mamma Mia Here We Go Again!" 
The boy tries to trick the girl and ends up falling for her. Yes, very cliche… but it is an incredibly sweet and funny movie that you can enjoy anytime! 

As if we didn't know already that breaking up with someone and still living together is a bad idea… Jennifer Anniston and Vince Vaughn show us how things can go from bad to worse and still manage to make it hilarious!
How to Lose a Guy in 10 days
Aren't you grateful for Mathew McConaughey's iconic era of rom-coms? Because I sure am. In this movie, Journalist Andie Anderson (Kate Hudson) tries to make a guy fall for her and then lose him in 10 days for an article, while the guy tries to prove that he can make any woman fall for him. 
We have all dreamed of sitting in a bar in New York sipping on Cosmos with our besties just like Carrie Bradshaw. Even though Carrie's dreams take an unexpected twist of events, the iconic rom-com is always a good one to rewatch (or watch for the first time if you haven't yet). 
Is it possible to have all the benefits of a relationship without all the drama? Yea, I don't think so either. Mila Kunis and Justin Timberlake star together in this fun rom-com as they try to do exactly that and not fall for each other. 
Secretary marries boss because of legal issues in return for a job promotion? What could go wrong? Sandra Bullock and Ryan Reynolds partner up in this movie and bring to life some hilarious scenes. Let's not forget Sandra's iconic scene in the woods dancing and singing with Betty White.
Leave a Comment
About the Writer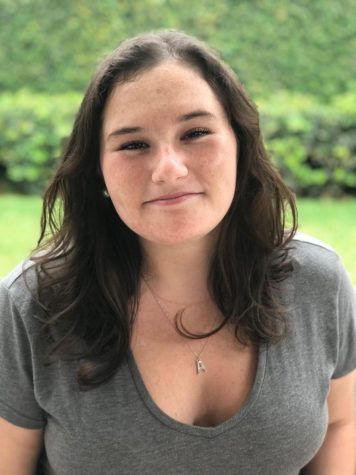 Alexia Castellon, Print Managing Editor
My name is Alexia Castellon. I'm a Mass Communication senior with a concentration in PR. I was born and raised in Nicaragua, and I am fluent in Spanish...