Nicholls to administer free Covid-19 vaccine to all students today
With Monday's shift in the state's requirements on recipients of the Covid-19 vaccine, Nicholls State University is proud to announce that all students faculty, ages 16 and above, regardless of health conditions, are now eligible. 
Director of Environmental Health and Safety Brian Clausen provided further detail on Tuesday's event, stating that it will be conducted by the Louisiana National Guard and Region 3, which is the Office of Public Health. 
Additionally, Clausen stated that the two part vaccine will be the Pfizer vaccine, and that the second portion will be available in 21 days.  
As registration opened on Monday, Clausen explained that it is strongly recommended this step, in order to make the check-in process as smooth as possible. 
"Nicholls is hosting it for our faculty, staff, and students–mainly our students. Most of our faculty and staff have already gone before, and it's going to be held at Stopher Gym from 10 to 7 p.m., so it can catch people's class schedules and give time to register," Clausen said. 
In turn, as Clausen said that the vaccine is not mandatory to anyone, it is strongly encouraged. 
In terms of the vaccine's benefit to Nicholls' students, Clausen said that this will aid in coverage against Covid-19. 
"Right now, if you are close-contact with an individual, even if you are not positive, you must isolate. But, once you're fully vaccinated fourteen days after, then you no longer have to even isolate, unless you become symptomatic," Clausen said. 
More importantly, Clausen explained that the greatest benefit of this vaccine will be to prevent the spread of the Coronavirus. He said that the main purpose is to try and get herd-immunity and to reduce the chance of this virus from mutating, and developing more strands. 
"So, if it can't mutate, then it can't spread as fast. And, so this whole thing is to try and stop the spread, and to get back to normal as much as possible," Clausen said. 
In turn, Clausen stated that this vaccine will definitely benefit the Nicholls' community, providing more opportunities for events, without the added risk of returning to a virtual setting, another shut down, a rise in cases, and overcrowding the medical environment. 
He said that all of these factors are why everyone, including the Governor and the President, are asking people to consider being vaccinated. 
"It's going to help people who may be very high-risk from catching the virus, and the potential for it being fatal to some people. We've seen a large number of deaths since this started," Clausen said. 
He further emphasized that in taking the vaccine, one will not only be protecting themselves, but also ensuring the safety of those that surround them. 
"We encourage people to get the vaccine, and to build that herd-immunity. Then, those large numbers is where we can show a positive trend in the reduction of the positivity rates that's currently present throughout the United States, and to stop these spikes every time an event or holiday comes up," Clausen said. 
With this, Clausen stated that they are determined to get some form of normalcy back, and to be reunited as a nation. 
As far as this vaccine's role in determining the future for Nicholls and its campus, Clausen began by stating that the university has been a leader in the state from day one. 
"We have been out on the forefront, we have done proactive measures. We were some of the first to come back to face-to-face learning, or Hybrid/Hyflex," Clausen said. 
Additionally, he explained that Nicholls has served as a pace-setter since day one.
In turn, he stated this works to reinforce the commitment, as well as the fact that Nicholls will remain a safe campus and they will continue to do what they do best: educate students. 
"I think a lot of areas looked up to Nicholls, from the way we started classes back earlier than alot of them in the Fall, how we immediately positioned our classrooms to be safe, the supplies and the cleaning of our facilities on a regular basis, and the resulting in very low numbers for the past year, as compared to other areas," Clausen said. 
Clausen also accredited the idea of not having to close the university's doors, even when it could not remain open. 
"Nicholls has always been there, and taking positive steps toward providing that safe campus that we are," Clausen said.
Leave a Comment
About the Writer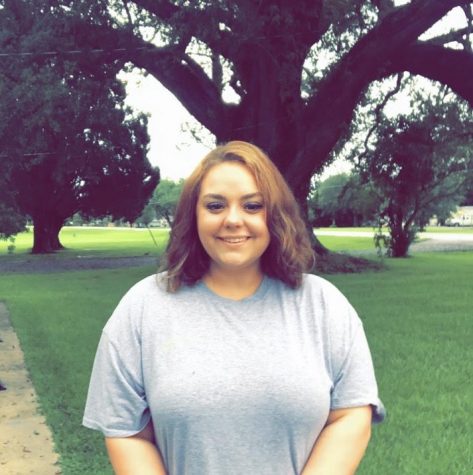 Haley Landry, News Editor
Fun Facts:

Traveling to Greece is fairly high on my bucket list.
If I were a Starbucks flavor, I'd be a white chocolate mocha—mainly because...