Falcon and Winter Soldier Premier
The "Falcon and Winter Soldier" series has finally premiered on Disney+. The series takes place only a couple of months after the events of "Avengers: Endgame" and "WandaVision." The show follows Sam Wilson/Falcon, played by Anthony Mackie and Bucky Barnes/Winter Soldier, played by Sebastian Stan. While the two characters still have yet to reunite, it was interesting to see such character studies of these two characters throughout the first episode.
In the opening, viewers find out that although Steve Rogers passed on the shield and the mantle of Captain America onto Wilson, Wilson later passes on that offer and returns the shield to the Smithsonian Museum in hopes of it belonging to someone more worthy of it. Wilson is intimidated by such a legacy and responsibility of the mantle. Viewers also see Wilson's relationship with his sister in Louisiana as they struggle to keep their family's legacy through their trawling boat. It will be interesting to see where this storyline goes in the future.
The other protagonist, Bucky, is also having problems of his own internally. It is revealed he was pardoned of his crimes by going to therapy and making amends due to his time as a brainwashed assassin. Viewers see Bucky adjust to a sense of normalcy after bouncing from one fight to another as he attempts to go on a date. One of the strongest and most emotional scenes in the episode is when the audience finds out that Bucky's friend, Yori is the father of one of Bucky's victims from his past. Bucky is seen struggling to tell Yori the truth about what happened to his son and make amends for it.
The new threat of the series seems to be the terrorist group called the Flag Smashers. It will be interesting to see what this group has in store for the future. The action sequences of this episode were truly great. The cliffhanger from this episode also surprised many people as the Smithsonian decided to appoint a new Captain America: John Walker. The character is played by Wyatt Russell. Will he become a heroic symbol or just another foe for the protagonists to deal with? Only time will tell. The series looks like it will be a fantastic run and I personally cannot wait for more. 
Leave a Comment
About the Contributor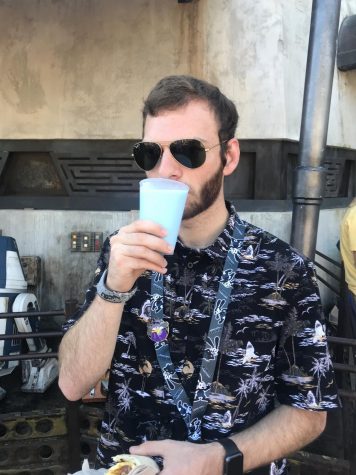 Owen Callais, Entertainment Editor
Hey, I'm Owen! I'm a senior English and Film major. I love to go hiking and watch movies.

Fun fact: My role models are Steve Irwin and Forrest Galante,...