A Colonel's return to Nicholls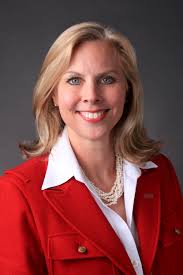 After a brief hiatus, Monique Crochet has returned to her position as Executive Director of External Affairs at Nicholls on Monday, March 1.
After working at Nicholls for 12 years, Crochet had a job opportunity as Community Relations Coordinator at Thibodaux Regional Medical Center. After applying, Crochet got the job.
"I've always believed that when opportunity presents itself, you have to look at it," Crochet said.
Crochet said that being a graduate of Nicholls, she soon realized that Nicholls would always have her heart.
"After I got there, I liked it and it was a great place to work, but my heart was just broken," Crochet said. "Nicholls is my home, Nicholls is my heart."
Alex Arceneaux, executive vice president of enrollment and external affairs at Nicholls, said that after Crochet left, he and several others in his department all shared in assuming her responsibilities. Arceneaux said that Monique's responsibilities at Nicholls included overseeing development, donor relations, continuing education, alumni affairs and governmental affairs locally.
"I am very fortunate to have great people working in all seats," Arceneaux said. "I leaned on those leaders to keep the ball rolling while we were weighing our options and figuring out what the next step would be."
Arceneaux said that Crochet left some big shoes to fill. A lot of thought was going into deciding who would fill her position. He said he and Crochet kept in touch after she left, and Crochet would keep him updated with things she would usually take care of at Nicholls.
"She is the essence of Colonel Pride," Arceneaux said. 
Arceneaux said that he asked Crochet how everything was going at the new job, and she admitted she really missed Nicholls, to which Arceneaux replied, "You can always come back home." Within a month of being at her new job, Crochet made the decision to return to Nicholls.
"An institution is made of people, but it's the people that really make an institution special," Arceneaux said. "Monique is just one of those special people."
Arceneaux said that he is ecstatic that Crochet has returned to Nicholls. He said that there always seemed to be an empty spot. He found himself looking for her when she was gone, and now it feels like the family is back together.
"I'm very blessed and very thankful that Dr. Clune and Dr. Arceneaux allowed me to return to the same position I had before," Crochet said. "I came in on Monday, and it felt like I never left, that's God's plan."
Leave a Comment