Daft Punk Splits Up After Almost 30 Years.
After almost three decades of legendary and unique music, Daft Punk, the Parisian enigmatic duo that redefined the French touch style of house music announced their break-up.
They announced the breakup with the release of an eight-minute video titled "Epilogue". The clip features parts of the 2006 film "Electroma". It opens up with Guy-Manuel de Homem-Christo and Thomas Bangalter in their iconic robot helmets walking across a desert land.
 As Homem-Christo continues walking, Bangalter begins to slow down and eventually comes to a stop. He proceeds to take off his Daft Punk racing jacket and turns around to reveal a control panel on his back. Homem Christo then proceeds to open the panel and flip a switch that sets off a one-minute countdown that eventually leads Bangalter to his self-destruction. 
The video ends with the image of two robot hands in the shape of a triangle over the years 1993-2021 while the song "Touch" plays in the background. The duo's breakup was then confirmed by their publicist, Kathryn Frazier. No apparent reason has been released yet. Only the video represents the statement of the end of Daft Punk. 
They became very secretive throughout the 2000s after they decided to hide behind their signature robotic helmets and made very few public appearances. Even though their production was not as consistent, their music stayed relevant in mainstream culture because it appealed to people of all ages. 
The duo released four full-length studio albums: "Homework" (1997), "Discovery" (2001), "Human After All" (2005) and "Random Access Memories" (2013). Even though they had a small number of full-length studio albums released over 30 years, Daft Punk was widely recognized for their groundbreaking hits such as "Around the World," "One More Time," "Robot Rock" and Grammy-winning "Get Lucky." 
The tracks that set Daft Punk apart from the rest were their final album "Random Access Memories". The album had its roots in funk and disco which led them to win various Grammy awards. It included collaborations with great artists such as Nile Rodgers, Giorgio Moroder, as well as Panda Bear, Julian Casablancas from The Strokes and Pharrell Williams. This created a permanent idea that Daft Punk is and will always be a legend in genre-blending pop music. As heartbroken as I am to hear about their split, their music will continue to blast through my speakers endlessly.
Apart from great songs, they were also well known for their creative and colorful music videos as well as visually stunning live performances. They were also responsible for the 2010 soundtrack of "Tron: Legacy." 
To view their farewell video click here. 
Leave a Comment
About the Contributor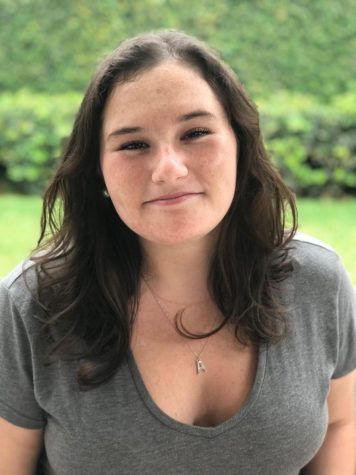 Alexia Castellon, Print Managing Editor
My name is Alexia Castellon. I'm a Mass Communication senior with a concentration in PR. I was born and raised in Nicaragua, and I am fluent in Spanish...