Easy Valentine's Day Gift Ideas
Valentine's day is right around the corner and with so much going on, sometimes we run out of ways to let that special someone know just how much we love them. So here are a few simple yet super cute ideas that you can make for Valentine's Day presents! 
A color box is one of the most creative and thoughtful ways to show that special someone how much you care for them. It is so simple yet so detail-oriented! Since it is Valentine's all you have to do is get all their favorite goodies in Red.
 For example Cheez-Its, Red Gatorade, Red Skittles, Kit Kats, Pringles Original, Nerds, Twizzlers, Doritos, Red m&m's, Strawberries, Red Velvet Chips Ahoy cookies, red gummies, etc.  
Here is another simple yet detail-filled way to impress someone. Put together a box or basket  with things that they can experience with their five senses. Add a little note to the objects that say "I see," "I Touch," "I smell," "I feel," "I taste."
Google photos personalized gifts 
Google is adding some pretty cool features to their photo app just in time for Valentine's day! You can now go to the app and create your personalized videos to give to someone. All you have to do is select the content you want to be included in the video and the app will create it for you. 
It is also adding the ability to make a photo album straight from your own Google photos content, have it printed and delivered with prices starting at $9.99.
Grab some clear plastic bags and fill them with candy or your Valentine's favorite treats. Buy a small sandcastle shovel and add it to the box. You can write or print out a little note that says "I dig you."  
Since we're still stuck in our houses due to COVID-19 and everything still seems pretty stressful, there is nothing better than coming home to a nice bubble bath set. Prepare a small box or basket and fill it with some bath salts, bath bombs, scented body soap and all the bubble bath essentials!
Friendship bracelet Valentine's Day cards 
Who says Valentine's Day is all about romantic relationships? Take the opportunity to celebrate friendships and gift your besties a card with friendship bracelets to remind them how much they mean to you! 
Find a small plastic organizer (the ones you use for pills or jewelry) or a mason jar and fill it up with all the goodies your special someone likes! 
You can go old-school with this special basket and rent a movie! Make it look nice by adding some popcorn, candy, snacks, and maybe even some wine for a romantic evening. If you want to go the extra mile, lay a picnic blanket on the floor and surprise your loved one with a full-on date! 
Make a cute little DIY box and decorate however you feel will show your loved one how you feel about them. Fill it with pictures and add Valentine's Day coupons… to give you some ideas, you can include stuff like: valid for a date, choose a movie, picnic day, dinner is on me, valid for hugs, etc. Get creative with it! 
Leave a Comment
About the Writer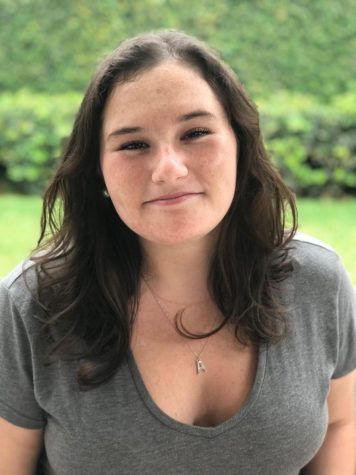 Alexia Castellon, Print Managing Editor
My name is Alexia Castellon. I'm a Mass Communication senior with a concentration in PR. I was born and raised in Nicaragua, and I am fluent in Spanish...