Opinion: Bridgerton is Literally the Eighteenth Century Gossip Girl
American television producer Shonda Rhimes lands another huge success with Netflix's new show Bridgerton, which is filled with romance, drama and an amazing cast. 
Some may know Rhimes from other hit series like How to Get Away With Murder or Grey's Anatomy. Based on the books by Julia Quinn, Bridgerton takes a completely different direction than any show Rhimes has produced before. 
Thanks to the amazing cast throughout the show, it is now one of Netflix's biggest hits. As of Jan. 4, Netflix claims over 63 million households have now seen it. 
To start with the cast, the Duke of Hastings, played by Rege-Jean Page, is now every young girl's celebrity crush. No one can tell me I am wrong here. This man is gorgeous, and we can see why he is the center of the gossip. 
With the success of the show, it is now said that the duke may or may not be the next James Bond. Only time will tell. 
Then we have young Daphne Bridgerton, played by Phoebe Dynevor, who knows nothing about what comes after marriage. She is a young and innocent girl who only wants to marry and have children but knows nothing more about it. 
In my opinion, this was executed very well. I think Quinn and Rhimes created a brilliant way to show how much time has changed over the years with Daphne's character. What young girls know and do today, they certainly didn't know or do back then. 
Then of course we have Lady Whistledown. Now we all know of Gossip Girl (2007), starring Blake Lively and Leighton Meester. Bridgerton is almost the same concept but without the threat of spilling secrets over social media. Instead, gossip is spilled through weekly newsletters. 
I won't reveal the identity of Lady Whistledown. You simply have to watch the show to piece it together when it comes to finding out who she is. 
Aside from the casting and plot, we have lavish balls, we get sights of beautiful gardens and even traditional ballroom dancing. The costumes and props are also extravagant pieces, with long babydoll dresses, feather fans and might I say spoons that add to story-telling and setting. 
Another thing to point out is the music. The producers took modern day music and took out the lyrics. Who knew such a thing could be so beautiful. 
The instrumental music, fancy balls, gowns and long walks through gardens are things I wish would still be popular today. Unfortunately, they are not. 
So, if you like those things too, you'll simply have to live your fantasy through Bridgerton. Since the eight episodes are more romance, it is not as plot-driven, meaning it is an easy watch and can be done in a day if you have the time. 
It is a great thing to watch, especially when you want to get out of your own head and dig into someone else's gossip. 
10/10 recommend!
Leave a Comment
About the Contributor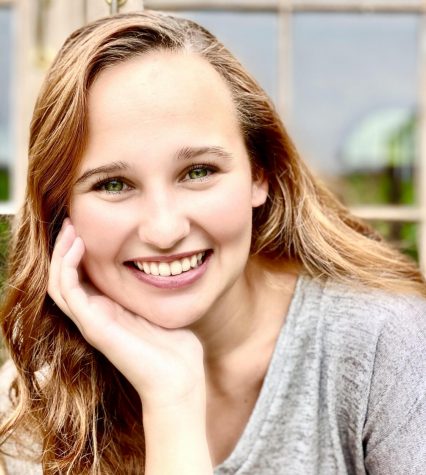 Jade Williams, Editor in Chief
Fun Facts:

9/10 times I'm wearing a sweater
If I could interview anyone, it would be Charles Manson
If I were a starbucks flavor i'd be...