Nicholls course program unites inmates and university students
Through Nicholls' Inside Out program, the university's students were able to meet with inmates at the Lafourche Parish Correctional Complex to discuss different social issues, including criminal justice. 
Houmatoday reported that this course met weekly, with a total of ten students and ten Lafourche Parish inmates. 
Sophomore at Nicholls State University Malori Landry provided further detail, discussing what the course's schedule looked like, including the different dress codes and procedures they were expected to follow. 
"We met at the Lafourche Parish Correctional Complex every Thursday, from twelve to three. It was once a week for three hours," Landry explained. 
In addition, Landry said that they were required to go through a number of security screenings, including walking through a metal detector. Due to Covid-19 restrictions, their temperature was also taken on a regular basis. 
"A huge thing about the class was also that they were very strict on dress codes, and the things that could be brought inside. You couldn't bring your phone in, you couldn't bring in a notebook with the spiral metal rings on it, and the way that we dressed really mattered, as well," Landry said. 
In terms of how the course was set up, Landry stated that they began the semester meeting in an area called the Community room. However, due to guidelines later set in with Covid-19, they were moved into a dorm. 
"So, towards the middle of the semester, we were going into the actual facility. And, it was just an empty living space, where there were no inmates living there. So, it gave us a larger space to have class," Landry mentioned. 
She described this transition as interesting, because it allowed the students to see where the inmates slept on a daily basis, and the different things that they were able to access on the inside of the facility. 
As for the Inside Out program, Landry said that it began last semester. 
"This is the second semester that it takes place. Then, it's not going to be offered in the Spring, but will be offered the following Fall," Landry said. 
Media Relations and Publications Coordinator Jacob Batte wrote that the idea for Inside Out came to Kristen Callais, instructor of sociology and program facilitator, three years ago. As Louisiana was one of the fewer states without this program already in place–possessing the highest incarceration rate in the world– she voiced the idea to Sheriff Craig Webre. 
Batte wrote that Callais later underwent the associated training and certification from the international Inside Out Prison Exchange Instructor Training Institute at Lewis University and Stateville Maximum Security Prison in 2019. 
In speaking with Callais, she said that the main academic goal of the course is to broaden and deepen students' knowledge of the criminal justice system: where it began, how it works, and what can be done to improve it. 
Acting as the program's facilitator, Callais mentioned that she is not the one educating the students. Though they start the semester looking to her for the answers, Callias wrote that instead, Nicholls' Inside Out Program provides students the unique opportunity to learn from each other. 
Coming together in the classroom, Callais explained that each student in the room has an equal voice and an equal stake in the learning process. She stated that there are no titles or even last names, they are all just colleagues. 
In turn, Callais also said that through this process, she is confident her students have gone beyond just learning facts. Instead, she related that they've broken through profound physical and social barriers, stepping out of their comfort zones, while also proceeding to challenge their own way of thinking. 
More so, Callais said that it is this type of thinking that leads to change. 
Callais described the true value of the Inside Out Program as being when all students, both inside and outside, begin to see each other and themselves in a new light. When the inside students, who never viewed themselves as college material, are keeping up with university upperclassmen, and college students, who always had an idea of what "criminals" are, are now empathetically turning to these men for answers. 
Mrs. Callais also explained that throughout this process, all those involved–including herself– are forced to examine their own biases with uncomfortable conversations, creating a truly transformative learning experience. 
To build on this, Malori Landry discussed her overall experience, taking part in the second semester of the Inside Out program. Landry said that she really enjoyed it. 
"It was an amazing program!" Landry said. 
She stated that it was a class that was more peer-driven, than it was book-driven. Landry also explained that in attending this off-campus course, she was able to get a different perspective on things, talking about the different occurrences going on in the world.
"It's just a different environment and a different learning experience that you wouldn't get in any other class," Landry said.
Landry was extremely excited to take part in the program, but also really nervous. 
"Just the nature of the course excited me because I want to go to Law School, and I just felt as though it would give me kind of like an edge up in my career, a different viewpoint. But, at the same time, it kind of made me nervous that I'd be sitting in a classroom with inmates," Landry explained. 
She also said that this was due to the stereotype that the world places on them. This caused her mixed emotions in the beginning. 
As Houmatoday reported that the students involved were interviewed and selected by a committee to participate, the inmates were chosen by the jail staff based on the length of their sentence, diversity and good behavior. 
Interviewing two of the ten "inside" students, Houmatoday said that Adrian Carmack–25, serving five years on charges related to drugs– described the Inside Out Program as inspiring him to make a new start with his life. 
Furthermore, Houmatoday also reported that Juanches Shelby–41, serving 8 years, also for drugs, said that at first, he didn't believe he'd be right for the program. As the weeks progressed, it was stated that Shelby had changed his mind. 
He said that he holds respect for all of the staff that has had faith in him, because he never thought that anyone would.
In offering advice to any student who would be interested in joining the Inside Out Program in the future, Malori Landry said that she would 100 percent say to join the course. 
"Just go into it with an open mind. I know that it can seem scary in the beginning, one can have tons of questions, and not even know what you're going into. But, I promise, in the end, you're not going to regret it. You're going to learn so much from it, more than anything you would learn from any other setting in life," Landry explained. 
Leave a Comment
About the Contributor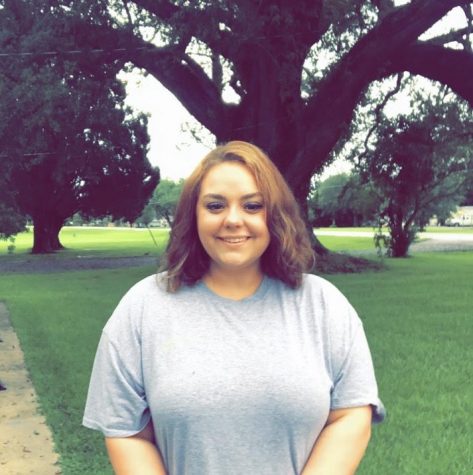 Haley Landry, News Editor
Fun Facts:

Traveling to Greece is fairly high on my bucket list.
If I were a Starbucks flavor, I'd be a white chocolate mocha—mainly because...