A Reflection on A Social-Distanced Grad Expo.
Following the landfall of Hurricane Laura, Fall 2020 Grad Expo was rescheduled from Sept. 15 to Oct. 6. from 10 p.m. to 4 p.m. The Grad Expo hosted fall 2020 graduates in the Harold Callais Recreation Center, where students took complimentary photographs with a cap and gown for the 2020 yearbook.
Students could also purchase their cap and gown for personal use at commencement and met one-on-one with the representatives from Balfour to purchase graduation announcements and their personally designed graduation ring.
I personally attended the Fall 2020 Grad Expo as a graduating senior, where I purchased my cap and gown for November's commencement. The entrance to the event included a table, where graduating seniors were encouraged to sign up for the Nicholls Alumni Federation.
Tables in Harold Callais were socially distanced, and students were encouraged to stand six feet apart during their purchase of caps and gowns. In addition to commencement wear, Nicholls Bookstore provided a select collection of graduate gifts and alumni-themed items that could be purchased. These items are available at Nicholls Bookstore and the Nicholls Bookstore website.
Complimentary photos, hosted by Candid Photography, were likewise socially distanced. Students could change into their newly purchased cap and gown if they did not want to wear the prop cap and gown provided by the expo. Students were also allowed to remove masks for makeup application and for their photo sessions but had to put masks back on afterward.
Photo sessions were booked via QR codes, which were sent to the participating students' emails. Some issues had occurred with QR codes, according to Candid Photography representatives, because emails automatically delivered to the spam folder.
Balfour representatives hosted a table where rings and announcements could be purchased via forms, complete with payment plan information and disposable sizing tools.
Balfour representatives encouraged students to also use their online store to design their graduation ring and personalize their graduation announcements. At the time of the Grad Expo, Balfour representatives explained that announcements could not be printed with a commencement date yet, due to possible uncertainty with COVID-19.
Caps and gowns may still be purchased with the Nicholls Bookstore. Announcement and graduation ring orders can still be placed with Balfour's Nicholls website, and are guaranteed to arrive before fall 2020 commencement.
About the Contributor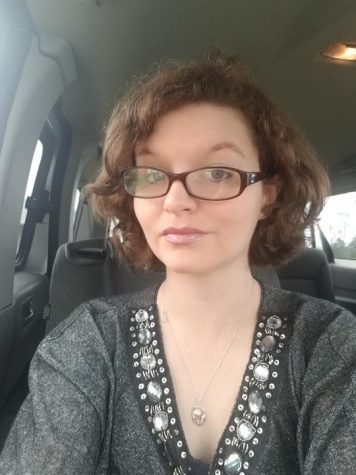 Caitlin Jones, News Writer
-Fun Facts:

I've visited eight countries (and counting!)
My favorite classic author is Oscar Wilde
If I were a Starbucks drink, I would be...