Hurricane Delta's impact over Louisiana
Over the weekend, Hurricane Delta made landfall as a category two storm, unleashing a significant combination of strong winds, storm surge and heavy rains to Louisiana and parts of Texas.
Consequently, as this is not Louisiana's first direct-impact of 2020's hurricane season, total devastation lay in Delta's wake. 
More so, as areas including Lake Charles and Lafayette were struck again, a great deal of this damage has only increased the remaining destruction from the state's previous storm, Laura. 
Dean of Sciences and Technology John Doucet provided an insight into this devastation, discussing the different ways in which increased power outages can place a damper on the overall health of the public. 
Doucet began by explaining the importance of electrical power to an environment. As many aspects of everyday life depend on electricity, a lot of issues can occur when it is stripped away. 
Doucet listed the loss of access to health care as being a major issue while being without electricity. Though most of these medical facilities– potentially the larger ones– -are still protected with generators, Doucet also stressed the fact that society is in the middle of facing a global pandemic. 
"Healthcare is even more critical at this point. I would imagine that loss of electricity might also lead to loss of access to primary care doctors, hospitals and pharmacies," Doucet said. 
Doucet also mentioned how the loss of electricity could affect different deliveries of specific goods and supplies. 
"Certain medicines might be placed on back order or might be delayed because the roads are not available," Doucet said. 
He further explained this struggle by stating that as different forms of equipment are sensitive to electrical changes, sometimes these pieces can go down or be burned, resulting in their circuits no longer being usable. This creates a risk to the public as well. 
Doucet mentioned the south's increased humidity as another issue with loss of power. As the public is generally required to wear masks indoors, the dehumidification involved in air conditioning serves as a form of protection. 
"But, when you're in a building without this electricity when it's 100, 90, or even 75 percent humid outside, your mask is going to get saturated. And, instead of filtering or blocking viruses, masks that are saturated will tend to attract the water particles that contain viruses," Doucet said. 
Additionally, Doucet mentioned that without the electricity required to operate washing machines, masks cannot be washed on a daily basis, which means the public also has to be concerned about how soiled these masks can get. 
According to Doucet, this lack of air conditioning and dehumidification can also have a dramatic effect on one's breathing. The heat and humidity can lead to chronic ailments in the elderly and sometimes infants, young people and even pets. 
One of the final topics Doucet discussed was drinking water. 
"I'm a child of hurricanes, so I know about drinking water and stuff. We used to fill our bathtubs with water so we could boil it. In anticipation of a hurricane, we understood that when power went out, the availability of drinkable water would be reduced," Doucet said. 
Doucet proceeded to explain that, in addition to worrying about drinking water in areas like Lake Charles and Lafayette, focusing on the cleanliness of skin is also very vital. 
"In the humidity, without proper washing, we're going to be susceptible to skin ailments,"  Doucet said. 
Doucet also tied the outbreak of mosquitoes as a major worry for those without power, especially after such a large storm. He mentioned an unfortunate instance from hurricane Laura, the dramatic death of cattle caused by heart failure from multiple mosquito bites, as an example. 
He further explained that these mosquitoes carry different viruses– some that are known, and others that are still unidentified. 
As Lake Charles and different portions of Southwest Louisiana have been forced to endure two major storms in just one season, those around the state have never failed to show their kindness and support–even taking it to the next level in some ways. 
973 The Dawg reported that different residents from Lafayette to New Orleans have said that they would have rather the storm hit their towns than hit Lake Charles again. 
Leave a Comment
About the Contributor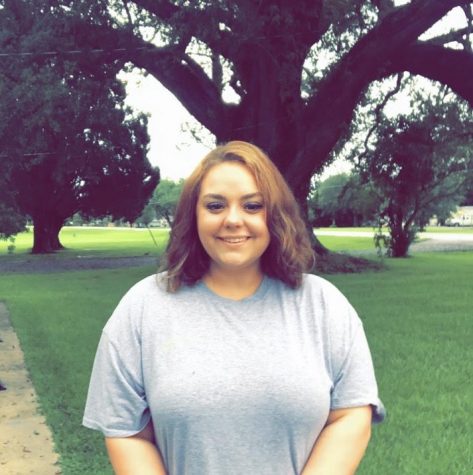 Haley Landry, News Editor
Fun Facts:

Traveling to Greece is fairly high on my bucket list.
If I were a Starbucks flavor, I'd be a white chocolate mocha—mainly because...