Movie Releases in October
October brings along new spooky movies to the public, and if you're not into spooky stuff there's always something else.
Whether it is on the big screen or through streaming services such as Netflix, here are some of the most anticipated titles of this month and where to find them. 
Emily in Paris
Emily, an ambitious twenty-something marketing executive from Chicago, unexpectedly lands her dream job in Paris. Her new life is filled with intoxicating adventures and surprising challenges as she juggles work, friendships, and romance (Netflix). The Movie will be released exclusively on Netflix on Oct. 2.
Vampires Vs. The Bronx 
A group of young friends from the Bronx fight to save their neighborhood from a band of vampires (Netflix). The Movie will be released exclusively on Netflix on Oct. 2.
Hubie Halloween 
Hubie Dubois (Adam Sandler) thanklessly spends every Halloween making sure the residents of his hometown, Salem, celebrate safely and play by the rules. But this year, an escaped criminal and a mysterious new neighbor have Hubie on high alert. When people start disappearing, it's up to Hubie to convince the police (Kevin James, Kenan Thompson) and townsfolk that the monsters are real, and only he can stop them. Hubie Halloween is a hilarious family film about an unlikely hero with an all-star cast including Julie Bowen, Ray Liotta, Noah Schnapp, Steve Buscemi, and Maya Rudolph, produced by Happy Madison (Netflix). The movie will be released on Netflix, Oct. 7. 
The War with Grandpa 
Starring Robert De Niro, the movie follows the story of a typical sixth-grader and his grandpa as they learn to live together. When Peter (Oakes Fegely) is faced with having to let go of his bedroom as his grandpa moves into their house, he decides to play pranks on his grandfather in order to lure him out. However, Ed (Robert De Niro) will not go down without a fight. The movie will be available on Oct. 9 in theaters. 
The Haunting of Bly Manor 
From The Haunting of Hill House, creator Mike Flanagan and producer Trevor Macy comes The Haunting of Bly Manor, the next highly-anticipated chapter of The Haunting anthology series, set in 1980s England. After an au pair's tragic death, Henry Wingrave (Henry Thomas) hires a young American nanny (Victoria Pedretti) to care for his orphaned niece and nephew (Amelie Bea Smith, Benjamin Evan Ainsworth) who reside at Bly Manor with the estate's chef Owen (Rahul Kohli), groundskeeper Jamie (Amelia Eve) and housekeeper, Mrs. Grose (T'Nia Miller). But all is not as it seems at the manor, and centuries of dark secrets of love and loss are waiting to be unearthed in this chilling gothic romance. At Bly Manor, dead doesn't mean gone (Netflix). Available on Netflix Oct. 9. 
The Trial of the Chicago 7 
What was supposed to be a peaceful trial turned into a violent clash with the police. What followed was one of the most notorious trials in history Netflix). Written and directed by Aaron Sorkin, the movie will star Sacha Baron Cohen, Eddie Redmayne, Jeremy Strong, Yaha Abdul Martin II, Joseph Gordon Levitt, among other great actors. The film is based on a true story and will be available on Netflix on Oct. 16. 
Synchronic 
When New Orleans paramedics and longtime best friends Steve (Anthony Mackie), and Dennis (Jamie Dornan), are called to a series of bizarre, gruesome accidents, they chalk it up to the mysterious new party drug found at the scene. But after Dennis's oldest daughter suddenly disappears, Steve stumbles upon a terrifying truth about the supposed psychedelic that will challenge everything he knows about reality and the flow of time itself. The movie will be released in theaters on Oct. 23.  
The Craft: Legacy 
Following the original title released in 1996, The Craft returns with a sequel. The story follows the eclectic foursome of aspiring teenage witches as they get more than they bargained for while they lean into their newfound powers. The movie will be available for rent or purchase through most of the major digital retailers on Oct. 28. Right in time for Halloween! 
Leave a Comment
About the Writer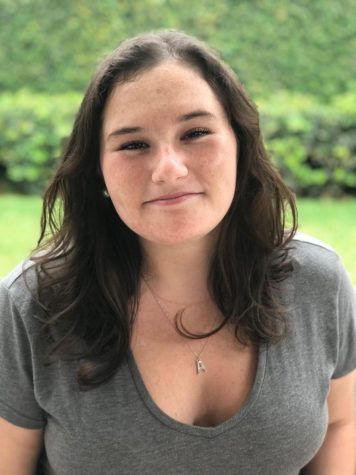 Alexia Castellon, Print Managing Editor
My name is Alexia Castellon. I'm a Mass Communication senior with a concentration in PR. I was born and raised in Nicaragua, and I am fluent in Spanish...