Reason behind moving football season to spring
Recently, the football team has announced their new six game all-conference season that will start in the spring. 
Fans are still left to wonder why the Colonels have decided to push back their season and not play alongside the other teams in their conference. Head coach of the Colonels, Tim Rebowe, shed some light on the decision they made. 
"It was very difficult for everyone, but when you really look at the health and safety of our student-athletes, I still think it was the right thing to do. I think the hardest part for our guys was once the season started in September and they saw teams playing, they started to question 'Well, why can't we play?' We made a decision, which I think is the right one," Rebowe said. "The conference gave the option to play, but we were not playing for any conference championship. We are not going to play because it is the right thing to do for us. Once they got over that initial fact, I think our guys accepted it and now that we have a schedule to play in the spring, it gives them something to look forward to."
As for the shortened all-conference season, Rebowe said that there are some pros and cons to it. While there are not as many games to compete and win in, there is no "margin for error."
Rebowe said that even with the many setbacks, the Colonels will still be ready to play. 
"With the pandemic and all the weather situations that we've had this year, I think it affected their workouts a little bit… so it was hard for our guys to get into a routine for a couple of days and get some good work in," Rebowe said. "There is a lot of motivation now that they can start to see a little by little that things are going to happen, so I think our guys will be ready when that time comes."
Jair Joseph, an interdisciplinary studies major and senior offensive lineman for the Colonels, said it was just frustrating, not having anything to look forward to, like championship wise.
"It was just us coming out here every day, going through the motions, but everyone had a frown. It was just like a part of your life was taken away; this is our lives," Joseph said.
Joseph said that it has been a little frustrating seeing other teams play, but said that this setback has given them a chance to focus more on school and has allowed them to build better relationships with each other. 
"We just got to focus on us right now…We didn't lose motivation because we knew we had a great team and great coaching staff. Now that we know that we have a set date, it is a whole lot better. We're taking it week by week and we know now that we are going to be playing for a national championship," Joseph said.
Another senior for the Colonels, Defensive Back, and General Studies major, Kevin Johnson, said that he also found the setback frustrating, but chooses to see the positive aspects of the decision. 
"I do feel like we should be playing, but at the same time, I understand the decision and I see the bright side of it," Johnson said, "It gives the freshman time to learn the defensive schemes and offensive wise, giving them more time to build chemistry with the quarterbacks that we have coming in. So yeah, it was frustrating, but I think it's going to help us out at the end."
Johnson said that he was worried about what this setback would mean for his senior year, but said that now it has given him more time to gain more opportunities and also more time to explore the defense.
Regardless of when the Colonels will get to play, both Joseph and Johnson agreed that the future is looking bright for the team.
Rebowe said that he shares in the fans' contemplation of the pushed back season. 
"It is an eerie feeling that you look at Saturday and we're not playing…" Rebowe said.
However, Rebowe is still confident in his team and knows that when the time comes, the Colonels will be ready. 
"… They have their sights set on some bigger goals. First, to win the conference championship and then to take it a step further to playoffs and possibly play for the national championship," Rebowe said.  
Leave a Comment
About the Writer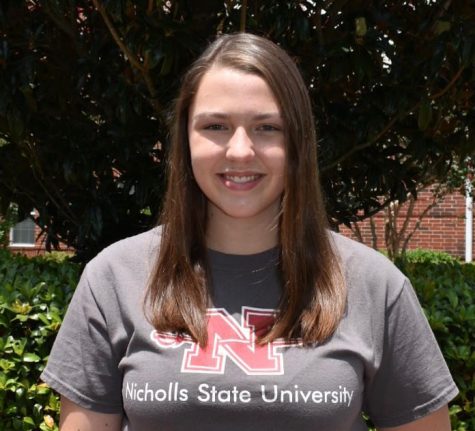 Alexis Dantin, Sports Writer
Fun Facts:

If I could travel anywhere in the world, I would for sure travel to Italy! 
I laugh at almost everything, even when I should definitely...