The controversy of Netflix's new film: Cuties
Netflix's new French film Cuties (Mignonnes in French), has sparked a lot of controversy in the public eye. The film has been accused of celebrating the sexualization of young girls and inciting pedophilia. 
However, the accusers of the film and the director, Maïmouna Doucouré, are both looking to attack the over-sexualization of youngsters; people have been led to believe that Cuties is promoting this type of behavior when in reality it is a criticism of it. 
The film follows an 11-year-old Muslim Senegalese girl, Amy, as she defies her family's cultural beliefs and forms a new group of friends. The girls that Amy starts to hang out with are grinding and twerking throughout dance routines while they practice for a local competition.
Besides this, the movie also portrays raw scenes of male chauvinism where women are told they must obey their husbands and be good wives. Amy experiences this under her own roof when her father is about to marry a second wife in Senegal and plans to bring her to France to live with them. 
There have been many petitions to cancel the show after the American version of the poster was released. The American version portrays a group of girls dressed in short shorts and crop tops posing in a very sexual way. Whereas, the French poster shows the group of girls laughing and walking down a street showing shopping bags.
Doucouré later followed saying that her reaction to the controversies was a strange experience. Since she didn't know what the poster would look like, she did not understand what was going on until she received countless attacks on social media. Not only did the director of the film receive bad publicity but also death threats because people did not understand what the purpose of the film was. 
At some point, the description of the show on Netflix read, "Amy, 11, becomes fascinated with a twerking dance crew. Hoping to join them, she starts to explore her femininity, defying her family's traditions." 
When critics surged petitioning to cancel the show, Netflix's CEO apologized, for both the poster and the description. The description was changed and it now reads, "Eleven-year-old Amy starts to rebel against her conservative family's traditions when she becomes fascinated with a free-spirited dance crew." 
In addition to that, the poster was changed to look just like the original French version.
Leave a Comment
About the Contributor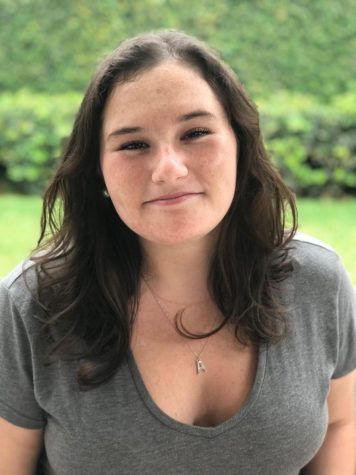 Alexia Castellon, Print Managing Editor
My name is Alexia Castellon. I'm a Mass Communication senior with a concentration in PR. I was born and raised in Nicaragua, and I am fluent in Spanish...