Opinion: A Good List of Books
Books… Books… Books… So many authors, covers, stories, lessons, just so many where to choose from… yet, what is it that draws someone to read one? 
We spend most of our lives being told by schools that reading is good for you, but why? Well, you know that quote that says, "A reader lives a thousand lives before he dies. The man who never reads lives only one. – George R. R. Martin." At the young age of 23, I think I have lived more than 200 lives or so and I believe that's a pretty good reason to read books.
Reading has allowed me to travel, love, live and learn all from the comfort of my bedroom. It has shaped me into the person I am today and filled me with countless aspirations. It is never too late to start reading, so go ahead and give it a shot!
I have put together a small list of my favorite books and authors, maybe you'll find some that you will love too!
Fantasy Books
Harry Potter Series by J.K Rowling

The Mortal Instruments Series by Cassandra Clare. 

Hush, Hush Series by Becca Fitzpatrick

Bridge to Terabithia by Katherine Paterson

Percy Jackson Series by  Rick Riordan 

Divergent Trilogy by Veronica Roth 
Love Books
The Summer I turned Pretty Trilogy by Jenny Han 

Shug by Jenny Han

Amy and Roger's Epic Detour by Morgan Matson 
Self Realization Books 
Wonder by R.J. Palacio

You are a Badass by Jen Sincero

The 7 Habits of Highly Effective People by Stephen R. Covey

The Subtle Art of Not Giving a F*ck by Mark Manson

How to Get Sh*t Done by Erin Falconer

Becoming a Better Version of Yourself by Ben Leighton 
Books to read before you die
The Harry Potter series by J.K Rowling (Studies show that kids who read Harry Potter, grow up to be better people)

1984 by George Orwell 

100 Years of Solitude by Gabriel Garcia Marquez

The Great Gatsby by F. Scott Fitzgerald 

Animal Farm by Geroge Orwell 

The Little Prince by Antoine de Saint 

Fahrenheit 451 by Ray Bradbury

Pride and Prejudice by Jane Austin

The Lorax by Dr. Seuss
Leave a Comment
About the Contributor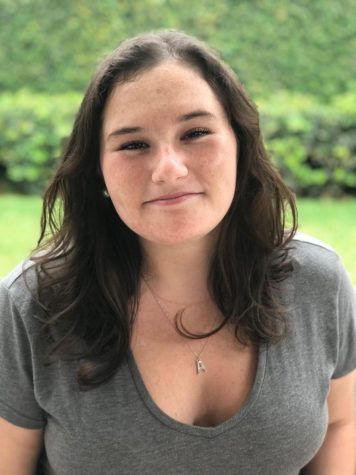 Alexia Castellon, Print Managing Editor
My name is Alexia Castellon. I'm a Mass Communication senior with a concentration in PR. I was born and raised in Nicaragua, and I am fluent in Spanish...