Blast from the past: Reed Pere'
Back in 1986, Nicholl's football team made history by becoming the first team to play in the playoffs with a record of 10-3. To remember the momentous occasion in Nicholl's history, Reed Pere' recalled his time as a Colonel for us.
Pere' played football at Nicholls as an offensive lineman from 1986-1990. He was the team captain for both the '87 and '88 teams. He was also named the Associated Press All-American and made the All-Louisiana Team in 1987. 
Growing up, Pere' was heavily influenced by football. His father, Ralph Pere', played football at Louisiana State University and also coached at South Lafourche High School. He won two state championships and they now dedicate the football field in his honor. 
With his father being a high school football coach, Pere' said they never got to go to many college games. However, they did get to go to a lot of Nicholl's football games. 
"I grew up just loving Nicholls," Pere' said.
When Pere' graduated from South Lafourche, he was offered to go to many colleges to play football. 
"There wasn't even a choice, I wanted to go play at Nicholls. I got recruited by LSU, I got recruited by a lot of schools, but I went to Nicholls," Pere' said.
At Nicholls, Pere' said he made some incredible memories with his favorite being spending time in the dorms with his teammates.
"It was like a family," Pere' said. "We just had a lot of fun, like having water balloon fights…It was so special." 
As for football, Pere' said his favorite games were the games against Southern University which was a rival team at the time. 
"The games were really crazy and loud, the fans were excited," Pere' said. "The most fans would go to those games, it was great."
He and his teammates also had some pre-game rituals. To get mentally prepared for games, he said a group of them would get together. 
"A group of us would get together and we had the loudest speakers. Big, tall speakers and we'd crank like Ozzy Osbourne, heavy metal music as loud as we could," Pere' said. 
Another memory Pere' had of his time here at Nicholls was a specific game they played against Northwestern. As both teams were warming up, Pere' said he had an idea.
"I thought it was a good idea to run right through them while they were warming up and scream at them," Pere' said, "Our coaches didn't enjoy that, but it was fun at the time, I thought it was a good idea."
Pere' graduated from Nicholls in 1991 with a Bachelor's in Science in general studies and a Master's in Education, but the best was still yet to come. In 2011, Pere' was inducted into the Nicholls Hall of Fame. 
"It felt great," Pere' said. "To get inducted into the Hall of Fame sort of closed the circle for me." 
With all the accomplishments Pere' had made, he said it felt "really powerful" to be honored and recognized for his hard work and dedication.
Pere' said that he was looking forward to the Nicholls football season this year, but with the recent cancellation, football will have to wait. Pere' felt for the team and had some advice for the players.
"Just try to enjoy whatever time you do have on the field. You may not have football, but you have your teammates. Enjoy your teammates because you are never gonna be able to replace that time with them and they like family. Have fun and do the best you can with the circumstances presented," Pere' said.
Pere' also wanted to be sure to give a special shout-out to his close friend, Jonathan Terrell, the new athletic director for Nicholls.
"He really loves Nicholls with all his heart and you can't replace that… He is gonna do great," Pere' said. 
Both Pere' and his past teammates said they are excited to see where Nicholl's football is headed and cannot wait to get back in the stands to cheer on their alma mater.
Leave a Comment
About the Contributor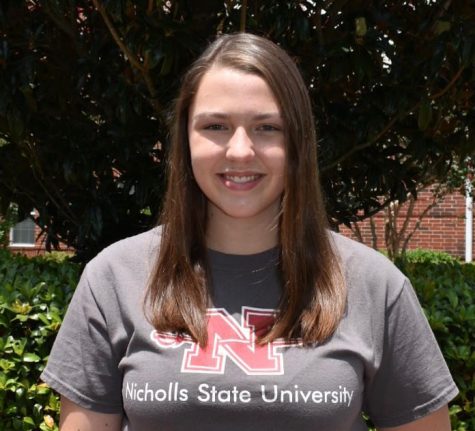 Alexis Dantin, Sports Writer
Fun Facts:

If I could travel anywhere in the world, I would for sure travel to Italy! 
I laugh at almost everything, even when I should definitely...