Mid season cancellation of baseball and softball
Covid-19 has caused a lot of things in the world to be turned upside down—from businesses to schools, and in this case, sports.
The devastating cancellation of sports has caused heartbreak around the world. Seasons have ended much too early, and many seniors have lost the accomplishment of a full career in college sports, baseball and softball among the many.
Luckly, the National Collegiate Athletics Association (NCAA) has given seniors another chance to play a full season this year. Still, both the baseball team and softball team here at Nicholls suffered through the emotional roller coaster.
The baseball team had just swept Mississippi Valley, winning a total of nine of their last 12 games. Once news started to spread, they began thinking that they would just have the games of that weekend cancelled, but the NCAA said they'd be out for a couple weeks. Within 24 hours, the entire season was canceled.
"At first it was very frustrating and disappointing…we had a really good team last year, and we were just starting to hit our stride. I didn't understand it…I guess they didn't really have a choice. What do you do in that situation? They had to do their part. They had to make the decision they thought was best for everyone involved," Baseball Head Coach Seth Thibodeaux said. "I certainly wished we could have kept playing…but they definitely made the right decision. I was really worried about our seniors who weren't going to be able to play again…Those guys handled it first class. Thankfully, everyone got another year so it was exciting cause you know what, it's not over."
They had a motto set by last year's team captain of "It didn't happen to us, it happened for us." 
"I'm excited to see our team," Thibodeaux said. "I think we're gonna make this season happen…we can't hide away forever. We have a life to live and the good Lord wants us to live a full life."
The softball team had a very similar story. They had begun conference play with a win at the Houston Baptist Conference Series, but as they came back home, the news began to pour in.
"It was pretty hard for the seniors, even with the win," Head Coach Angel Santiago said. "It was very confusing that everyone would be told to just stop right away. I thought that it was an appropriate move for the conference to just suspend the season for 30 days till they could get a handle on things."
 Like Thibodeaux, Santiago was also extremely concerned about his seniors. 
"All that work had turned into the biggest red-shirted season they've ever had in their life," Santiago said.
Both coaches expressed how hard their players are working to make this season possible. Their players are self-disciplined, motivated and smart. They are following every guideline and precaution set by the CDC and the university.
"I think we have a lot of good people trying their best," Santiago said. "We really appreciate Dr. Clune doing all the things he got to do to get school started, that way these kids can get back to the normal way of doing things. Nobody is meant to be sitting on a couch all day, everyone wants to move around and do things, but you have to do it safely and constructly and have a great attitude about it." 
Both coaches are excited to start a new season.

"We're prepared to do what we can to be the best team we can be." Thibodeaux said, "Stay positive like our players did. Let's keep moving forward, no doom and gloom."
There is no better way to summarize the emotions the players, coaches and fans felt during this roller coaster than by this last quote from Thibodeaux: "Great things happen after tough times." 
Leave a Comment
About the Writer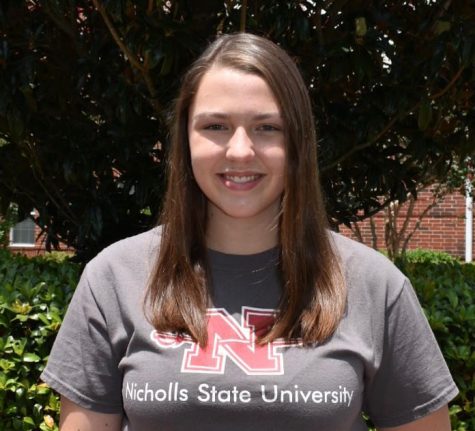 Alexis Dantin, Sports Writer
Fun Facts:

If I could travel anywhere in the world, I would for sure travel to Italy! 
I laugh at almost everything, even when I should definitely...