University's plan for campus cleaning amidst Covid-19
In wake of the notorious outbreak of Covid-19 last semester, Nicholls State University has amplified its cleaning methods to ensure a safe return to campus for students. 
Nicholls State University President Jay Clune assured that the university is always looking towards the best practices and recommendations for preventing the spread of this illness. One such practice includes cleansing methods that have been used before and have a guaranteed positive outcome. A great example is the sanitizing foggers now used in classrooms between use that have previously been used in the Little Colonel Academy, as well as athletic locker rooms to prevent Staph infection. 
"We know they're effective. We've seen the results," Clune said.  
He also stated that Nicholls remains up-to-date on all cleaning practices and procedures and typically exceeds in most circumstances. 
Air quality was another topic mentioned in discussing the long-term benefits of this heightened cleaning. 
"By improving the air quality using UV filters, for example, we're improving the air quality for the long-term, meaning students, faculty and staff will benefit from this long after the Covid-19 crisis passes," Clune said.  
Terry Braud, vice president for finance and administration at Nicholls, mentioned extra cleaning supplies and equipment also purchased to make things easier on the university's custodians. 
Fortunately, these additional purchases were well within the university's budget, as most of the products, solutions and equipment were from common sources. Braud said that delivery would have been more of a challenge. 
"But, with the planning that we did, delivery wasn't that big of a problem for us because we were buying in April, May and June for the August return. So, we had more than enough time for the deliveries to occur," Braud said. 
Braud also said that there are a total of thirty-five to forty custodians employed on campus, so there was no need for additional personnel. Instead, with the efficient cleaning equipment purchased, one job that would typically take up to twenty to thirty minutes, only lasted around five minutes.
Instead of contacting an outside source to train custodians, he said that they turned to senior personnel. 
"We were able to train those supervisors, who in turn, then trained their teams that they were working with," Braud said.
Brian Clausen, director of environmental health & safety at Nicholls, went further into detail, describing the different types of solutions used to clean the campus' support buildings, classrooms and public gathering settings. He said that the entire campus fell under the same criteria for cleaning, according to guidelines issued by the CDC. He also mentioned an increased focus on areas of high-touch, usually requiring high-frequency methods of sanitization. 
With the university using a number of EPA approved cleaning solutions, he noted the different kill times each solution possessed. 
"Some have a kill time of sixty seconds, some have a kill time of 2-3 minutes. Some ask you to air dry. So, it all depends on the solution you use," Clausen said.
Clausen also mentioned that the number of times a building is cleaned in one day depends on the usage of the building. In regards to the CDC, Clausen said that these areas are to undergo frequent cleaning. He also said that the university is complying with this and will continue to go above and beyond. 
Though these cleaning measures have only been used for a number of months so far, Clausen mentioned that the results can already be recognized. Over the course of this summer's semester, no cases were caused from attending the university. Clausen stated that the amount of Covid-19 cases that were reported instead resulted from community contact or spread. 
"That tells us our cleaning efforts and everything we were doing to keep our students safe in Summer was working," Clausen said.
Clausen emphasized that the university needs students' help in preventing the spread of Covid-19. He said that this can be done in a number of ways. Students should apply all safety measures not just on campus, but in their individual communities as well. He stated that it is crucial for students to always wear face masks and remain socially distant. 
Clausen defined social distancing as, "staying six feet away for more than fifteen minutes." 
Additionally, he stressed the use of proper hygiene and handwashing with soap and water instead of just hand sanitizer.
"We want to make sure that the right word gets out, as well as the right type of communication. We need everyone's part," Clausen said.
Leave a Comment
About the Contributor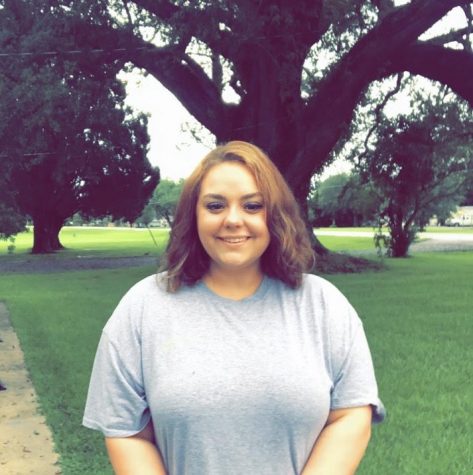 Haley Landry, News Editor
Fun Facts:

Traveling to Greece is fairly high on my bucket list.
If I were a Starbucks flavor, I'd be a white chocolate mocha—mainly because...