Folklore album review
Taylor Swift returned this summer doing what she does best; she gave us 17 songs filled with stories to allow our imagination to wander wild. 
Swift's new album Folklore is brimming with stories from all kinds of angles. A wide narrative scope that includes a widow who hated her whole town in "The Last Great American Dynasty," an affair gone wrong in "Illicit Affairs" and how everything she has gone through in life has led her to the one in "Invisible Strings." 
The album was written with many intricate narrative details from the perspectives of different people that she has met and others she has not, including stories of her own. 
Being in quarantine allowed her imagination to run wild while she sat next to the piano with a pen and paper scribbling away. 
As she explained in a tweet, "In isolation, my imagination has run wild and this album is the result, a collection of songs and stories that flowed like a stream of consciousness. Picking up a pen was my way of escaping into fantasy, history and memory." 
Swift also makes a special tribute to her grandfather who fought in WWII in the first verse of her song "Epiphany," (Keep your helmet, keep your life, son/ crawling up the beaches now) and swiftly transitions to a hospital room in the second one making reference to front-line healthcare workers during the pandemic (something med school did not cover/ someone's daughter, someone's mother/ holds your hand through plastic now).
The album propels the warm, comfortable feeling of goth-folk filled with acoustic guitar and piano ballads. It is perfect for lying outside on a picnic blanket while looking at the clouds, or wrapping yourself under warm sheets and falling asleep peacefully.
Overall, it feels like an album that shows how Swift has come of age; she goes from the girl that sang "Tears on My Guitar," to understanding how important it is to move on in "The 1" and learning that everything happens for a reason in "Invisible Strings."
Folklore will be released on Vinyl, CD and cassette tapes, adding the idea of going back in time for this album.
Leave a Comment
About the Writer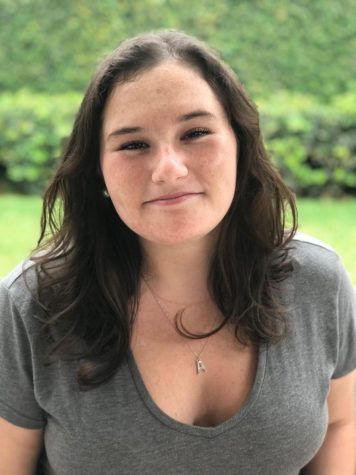 Alexia Castellon, Print Managing Editor
My name is Alexia Castellon. I'm a Mass Communication senior with a concentration in PR. I was born and raised in Nicaragua, and I am fluent in Spanish...