What the cancellation of pro day means for the football players
With the cancellation of all athletic events for the semester, the football players' pro day, which was scheduled for April 2, was also canceled.
On March 13, the National Football League (NFL) prohibited all in-person pre-draft visits with players eligible for the draft.
"It is tough, especially from us smaller schools that kind of need the pro day to kind of get our skills out there. We're not like the bigger schools to where our game tells all. We kind of use our pro day to give us a shot, so it's been tough," Kendall Bussey, senior running back from New Orleans, said. 
Virtual Pro Day
The football players will be sending in videos of themselves doing the workouts and drills they would have been doing at pro day. 
Defensive back Khristian Mims, a senior from Baton Rouge, said with having to send videos to teams, one doesn't know if anyone is going to look at it. With pro day, NFL scouts have to check-in, so one knows which scouts are there and what position they are recruiting for. 
"It is definitely different because, for one, now it is more so a leap of faith. There's nothing set in stone. There's no 'I talked to this coach' or 'I did this in front of these coaches' and everything. It's like, 'Let's hope that this coach has time today to look at his email and look at my video and think that I am good enough and take a chance on me,'" Mims said. 
Quarterback Chase Fourcade, a senior from Metairie, said there is a sense of comfort from being by himself filming the videos. 
"From what I am hearing about pro day, it's kind of different when you have 20 scouts looking at you as you try to perform to your best ability in front of them, but when you are by yourself, you have a sense of comfort, and it's just you and the camera," Fourcade said. 
Tight end Jordan Talley, a senior from Clinton, said with being from a smaller school, there is less exposure than others, but he said there are athletes from smaller schools that have made it in the NFL and are exceeding. 
"I've been told since I was a freshman in high school 'If someone is going to find you, they're going to find a way to find you,'" Talley said. 
Mims said it has been scarier and harder due to everything that has happened, and he said it has created a little bit of doubt. 
"I think if it is really your dream, you can get past all that and just keep working and know that what's destined for you is destined for you. That's kind of my motto. I know that God has a plan, so as long as I can just continue to stay faithful and believe and trust in him and keep putting in the work," Mims said. 
Fourcade said he knows that all of the players are going to get through it. 
"We can't really control what's going on right now, besides really getting it over with, but it has been tough so far, but I know we are all getting through it," Fourcade said. 
Concerns the Players Have
NFL general managers feel that the draft should be pushed back, due to there not being enough pre-draft information about the athletes participating. 
"I saw that some of the general managers in the league were wanting to push the draft date back, hoping for a chance to maybe have some of the pro days that were canceled, if things were to die down quick enough and people were to be able to be around each other," Mims said. "I am kind of interested because it is on schedule, but no one really has film; you know, you only have film from the big guys, so I think it is a different process."
A concern Talley had was not having NFL scouts in person seeing one's skills and abilities. Talley said when in-person scouting happens, one can see how he interacts with different quarterbacks, as well as his size compared to just looking at tape. 
Bussey said the chance of building relationships is lost whenever there is no face-to-face interaction. 
"They don't really get to see you and talk to you in person. It's just definitely less intimate, and it's just less of a chance. You don't really get to talk, and you don't really get to meet people and build relationships, exchange numbers and all those important things needed in this kind of process," Bussey said. 
Hopes and Goals 
Fourcade said he is hoping to at least be seen by teams with the video he is sending out. He said he is sending his video to all 32 teams and hopes he can get a call from some of them. 
"I know the draft is April 23, so I'll probably send it out in a week or two and just get their word on what they see out of me, what they like best about me and just, like I said, I got to continue to wait for that opportunity and just keep working at each and every day, and just hoping and praying," Fourcade said.  
All four hope to find a place in the NFL; however, Talley and Mims said they would also be interested in playing in the Canadian Football League (CFL) or the XFL and go another route to get to the NFL.
Mims said his goal is to make it to the NFL, but he said he understands that not everyone can make it to the NFL and there are other routes to the NFL. 
"There are other routes, so obviously, plan A is NFL, work hard there, see how that goes and see if somebody takes a chance. I can execute and do my part of it and make a team, but if not, I am also interested in going to Canada and playing in the CFL, or maybe even the XFL, if they bring it back. If it isn't those three, I think that I am at a point that I can understand that football has made me the person I am today," Mims said. 
Talley said he will be just as happy whether he is playing in the NFL, CFL or XFL, but he hopes to make it in the NFL. He said everybody hopes to make it in the NFL but that only a small percentage make it. 
"Everybody hopes to make it to the NFL, but some people, they have to be realists, so I mean yes, I want to make it to the NFL without a shadow of a doubt, but if I make it to CFL and play football there, I'll be just as happy. If I make it to the XFL, I'll be just as happy, as well," Talley said. 
Bussey said all of the athletes just want an opportunity to play football professionally. 
"What we are working for is just a chance. Everyone wants just one opportunity, no matter where it is, no matter who it is for. We just want that opportunity," Bussey said. 
Leave a Comment
About the Contributor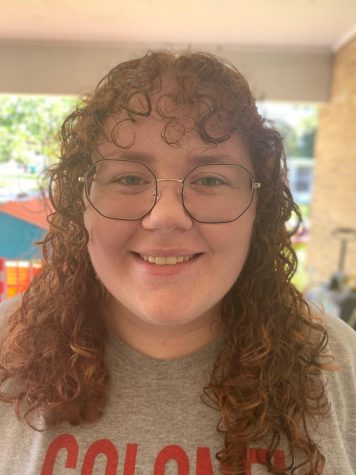 Jillian Landry, Magazine Manager
Fun Facts:

I love knitting and crocheting while watching crime shows, so basically I'm your average college-aged grandma. 


I love playing...