Opinion: Drew Brees donating for COVID-19 relief represents something bigger for Louisiana
Five years ago, as the 10th anniversary of Hurricane Katrina's devastation of the Gulf Coast approached, New Orleans Saints quarterback Drew Brees sat down with ABC's Robin Roberts to reflect on the revival of the Crescent City.
"We knew that this was about an overall just recovery, an overall resurrection of this city, of this community, of a spirit," Brees told Roberts.
That "resurrection" was in reference to an event that had taken place a few years prior. 
Back in 2010, on Feb. 7 to be exact, the Saints hoisted the Vince Lombardi trophy high for the first time in franchise history as confetti rained down in Sun Life Stadium in Miami, Fla. The black and gold had just defeated a Peyton Manning-led Indianapolis Colts 31-17 to secure the team's first and only Super Bowl win. 
The Super Bowl XLIV victory was a lifetime in the making for Saints fans. It was the pinnacle of the sports experience for Louisiana. It was the rain that brought the end of a drought that had seemed endless.
And yet, as big as the victory was, it represented something much bigger.
For most of the Saints' existence up until that point, the franchise had been plagued by losing season after losing season. The team didn't see its first winning record until 20 years after its establishment in the NFL, when it went 12-3 during the 1987 season and secured a spot in the Wild Card round of the playoffs where it fell to the Minnesota Vikings 44-10.
The 1987 season and the few successful seasons that followed were an anomaly for the franchise. The beginning of the 1980s had looked far different, as fans began to wear bags over their heads in mockery of the "New Orleans Ain'ts." 
And then, it happened. The 2009 season happened. A team that had known nothing but losing was suddenly winning. And it kept winning. It won 13 straight games before dropping its last three. Then it won its two playoff games. Then it secured the ultimate victory.
And it did it all for a city that had known its own share of loss on a far more devastating level. 
At the time of the Super Bowl season, New Orleans was slowly but surely recovering from the mass destruction caused by Katrina. By 2009, the homelesness rate in New Orleans had drastically decreased, but it wasn't gone. Even then, many homes were still destroyed and homeowners were left trying to pick up the pieces from the storm that had shaken the foundation of their lives to the core. 
The Super Bowl XLIV victory didn't rebuild New Orleans. It couldn't. It couldn't rebuild devastated homes or reopen businesses that had been wiped out. It couldn't bring a sense of normalcy back to New Orleans natives who had been displaced. But it could offer something: a triumph and a glimmer of hope to a state that had been in darkness for so long.
The feeling of overwhelming victory that swept through New Orleans after Super Bowl XLIV represented a synchronicity between sports and the beating heart of Louisiana culture: a synchronicity that continues to reveal itself over and over again. 
And that's why it came as no surprise when Brees announced that he would be fronting $5 million to aid with COVID-19 relief efforts in Louisiana and using his partnerships to donate over 10,000 meals to families in need every day. It was a donation that shocked many, as it was the largest donation offered by an NFL player toward COVID-19 relief yet and more than most NFL owners had donated. 
But to people familiar with the culture of Louisiana, it was no surprise at all. 
Later in the interview with Roberts, Brees relays a quote that was passed on to him when he signed with the Saints in 2006. 
"One of the best things I've ever heard was when we first got to New Orleans, somebody said, 'If you love New Orleans, it'll love you back,' and there is no truer statement," Brees said.
In fact, it's a sentiment that stretches across the entirety of Louisiana: a sentiment of love and generosity. 
When Brees joined the Saints, he stepped straight into a state and a culture where bonding together in the face of difficulty and looking out one's neighbor in times of crisis is instinctive: a culture that reveals its resilience and brotherhood over and over again.
Hurricane Katrina. The 2016 floods. And now COVID-19.
If there are four things that define Louisiana culture, it's family, food, community, and sports. They're all profoundly important in their own way, and somehow they've all become intertwined.
Brees came to New Orleans in 2006, a year after the events of Katrina. His arrival followed behind that of Head Coach Sean Payton to the black and gold. No one could have predicted at the time that the duo would become the most important in Saints history. But even then, they represented hope.
The Saints hadn't played in the Superdome during the 2005 season, as it suffered its own damage at the hand of Katrina. They managed a 3-13 record. 
What happened during that 2006 season was like magic. It's as if the stars had aligned. The Saints had a head coach. They had a quarterback. And they had rookie running back Reggie Bush. They won their first two games on the road. 
Then came the return to the Superdome on Monday Night Football against the hated rival Atlanta Falcons, where just four plays into the game came a moment that would be immortalized and replayed forever. Safety Steve Gleason blocked a punt that was scooped up for the Saints first touchdown in the Dome since before Katrina.  
The Saints went on to win 10 games that season and make it to the NFC Championship for the first time in franchise history. Magic.
All the while, Brees immediately poured himself into helping to rebuild what had been lost in the devastation of Katrina through his Brees Dream Foundation.
It's hard to imagine a version of Louisiana where Katrina, Brees and the Saints and an overwhelming sense of togetherness aren't forever intertwined. What that 2006 season and the years that followed saw was a state broken by tragedy finding hope and community through the mutual love of a team. It saw an unbreakable bond form between a quarterback from Texas and his adopted state. 
It took no time for Brees to fall into that culture that defines Louisiana so well. There was no going back after that.
That same culture of community saw the birth of the Cajun Navy in 2016. 
When Louisiana was struck with unexpected and catastrophic flooding at the hand of a storm that stalled over the state and dumped an uncontrollable amount of rain on multiple parishes, it wasn't government aid that made headlines. It was a group of average Louisianians who used their private boats to begin an ongoing rescue mission. The Cajun Navy wound up rescuing thousands of people from flooded homes. And they did it without seeking recognition or awards or notoriety. They did it because they saw members of their community in need.
The COVID-19 crisis is an unprecedented time for the world and for Louisiana, which has one of the most striking rates of confirmed cases and deaths. Just as the state needed hope during Katrina and during the floods of 2016, it needs hope now.
And that's why Brees's donation is all the more meaningful. It's a contribution to helping the state during a gut-wrenching crisis, but it's also a reminder of the ways Louisiana has become defined by resilience and community and stepping up when people are in need. 
It's a testament to the way that sports have become a thread in the middle of that resilience and community and aid. 
The donation may have been a surprise to people outside of Louisiana, but to those who know Louisiana and know the way it operates, his donation was familiar. It was the next chapter in an ongoing story that has defined the state for years. It's proof that Louisiana's culture finds a way to resonate with a person and stick with them.
Just look at Pelicans rookie superstar Zion Williamson, who agreed to pay the salaries of Smoothie King Center employees for 30 days immediately following the suspension of the NBA's season as the COVID-19 spread worsened. The culture of Louisiana is powerful. It leaves its mark on a person.
No, Louisiana is not perfect. But there's always hope. There was hope in 2006. There was hope in 2016. There's hope now. 
Love Louisiana, and it'll love you back.
Leave a Comment
About the Contributor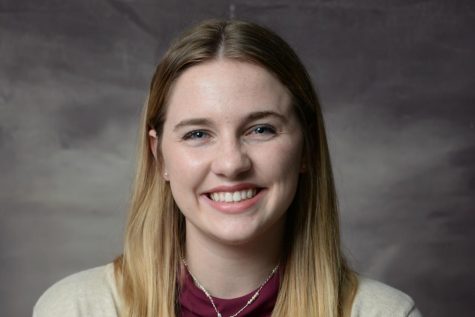 Keely Diebold, News Editor
Major | Mass Communications
Classification | Sophomore
3 Facts | I love photography; I wish I lived in Disney World; My favorite show is The Office.
...