How different Nicholls athletics are coping with canceled seasons
With Nicholls State University athletics being canceled for the remainder of the semester, coaches are focusing on keeping their athletes safe and healthy, while still getting the training they need to succeed next season. Eligibility has also been extended for senior spring athletes to compete next season.
Track and field head coach Stefanie Slekis said the team had a meeting to discuss what it would be doing during this time. She said her athletes asked if they would still be able to practice on their own. Slekis said she and track and field assistant coach Courtney Lord planned to create a list of suggested workouts that the athletes could do on their own during this time. 
Slekis said the distance runners can still work on preparing themselves for the fall cross country season, but also said it is upsetting that the athletes do not get to prepare with each other. 
"Luckily, running is something that follows CDC guidelines, so they can still go outside by themselves and train for the next couple months and still get prepared for the fall. It is just disappointing to not get in another big training and racing block with their teammates and with good competition like we had planned," Slekis said. 
Slekis said for the sprinters, jumpers, hurdlers and field athletes on the team, they will have to wait an entire year to see how they have improved in competitions. 
Beach volleyball head coach Kallie Noble said her main focus is that her athletes are safe and healthy. She said not having games and practices will set the team back a little bit, but when they get back to practices, they will be focusing mostly on indoor volleyball. 
Noble said the strength and conditioning coach is working on getting together some workouts that the athletes can do while they are at home.  
For senior athletes, the NCAA has extended its eligibility requirements so that seniors that are involved with spring sports can continue their sport next spring. 
Mariia Kozachok, a senior tennis player from Dnipro, Ukraine, said she will not be participating in tennis again next year, even though her eligibility was extended. 
Kozachok said she is upset because she won't be able to have senior day for tennis. 
Kozachok also said she has more time now to be able to focus on her classes.
"My life became boring. I have nothing to do except for school. I have a lot of free time because we don't have tennis…I feel like since I have more free time, I can study and I can improve my grades," Kozachok said.
Leave a Comment
About the Contributor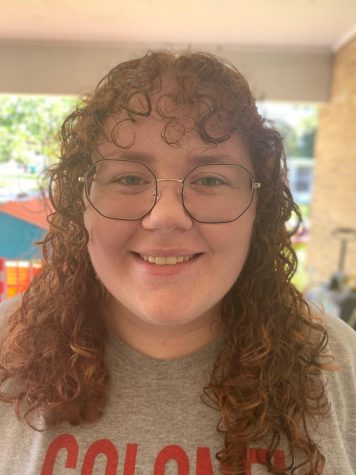 Jillian Landry, Magazine Manager
Fun Facts:

I love knitting and crocheting while watching crime shows, so basically I'm your average college-aged grandma. 


I love playing...