Sorority events are canceled for the remaining semester
As Nicholls State University transitioned online last week, Greek life members of Sigma Sigma Sigma (Tri Sigma), Gamma Phi Beta, Delta Zeta and Phi Mu also had to work on transitioning themselves strictly online, which meant canceling some of their events.
Tri Sigma President Gracie Bellanger, a junior business management HR major from Galliano, said when the email was sent out last week about the cancellation of classes, many sororities were at Songfest practice. 
Bellanger said the organizations have been working on their choreography, costumes and skits for four to six months now and also said that many people are upset about the cancellation of Greek Week, which was supposed to be next week, March 22-27. 
Gamma Phi Beta President Morgan Higginbotham, a senior allied health pre-professional major from Gonzalez, said the cancellation of events is upsetting for many of the seniors because this would be their last time participating in those events. 
"I think we are going to try and do a sisterhood event over the summer, something with our seniors, that way they get that last good-bye with the chapter, but we can't really give them back formal or anything like that," Higginbotham said. 
Philanthropy events had to be canceled as well, but some may be able to be rescheduled, like Gamma Phi Beta's Moonball. Higginbotham said Moonball might be moved to the fall semester of the next school year. 
All of the sorority presidents are unsure of what will happen with the rest of their events. Delta Zeta President Taylor Hodson, a junior English major from Lockport, said they are just focusing on things day by day. 
"I think we are kind of trying to take this one day at a time as far as this goes and that safety is everyone's first priority right now versus what are we going to do about our events," Hodson said. 
Phi Mu President Brynn Blanchard, a junior biology pre-med major from Cutoff, said they are working on keeping everything normal during this time. 
"Our executive board and cabinet heads are working really hard to keep everybody updated and get everybody on the same page and make sure that we're all working towards one goal and keeping everybody updated. That's pretty much our main concern right now– keeping everything normal," Blanchard said. 
The organizations will be continuing to keep up with their meetings, but they will now be using video calls to hold those meetings. The members are also encouraged to post on their organization's Facebook pages to keep in contact with each other during this time. 
"We might not be able to be together in person, but we are going to be keeping in contact, just sending positive things to each other. Our sisterhood hasn't stopped just because the university is closed down," Bellanger said.
Leave a Comment
About the Writer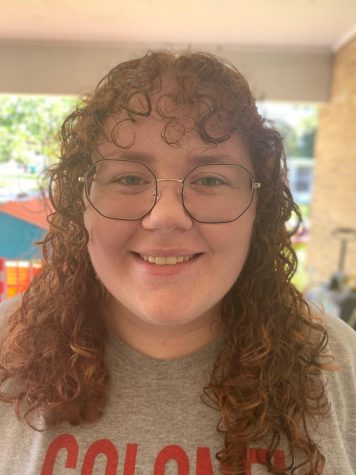 Jillian Landry, Magazine Manager
Fun Facts:

I love knitting and crocheting while watching crime shows, so basically I'm your average college-aged grandma. 


I love playing...