Nicholls track and field teams break personal records
The Nicholls State University track and field teams broke personal records and had some athletes place in the indoor track and field Southland Conference Championship on March 1 and 2.
"We have great momentum heading into the outdoor season after such a good indoor season. Every meet, we just kept building on the success we were having and it was really great to see us being able to capitalize at the conference meet in such a great venue, such good competition," Head Coach Stefanie Slekis said. 
Omo Oboh, a sophomore sprinter and hurdler from Missouri City, Texas, said it felt really good for her to be able to earn third place in the 60m hurdles and also beat the all-time record she set at Nicholls. 
"It just felt good to get on the podium and place and get points for my school and my team. It was my first year doing the 60m hurdles, so it just felt really good to get a medal," Oboh said. 
Hailey Alcorn, a sophomore sprinter and jumper from New Orleans, who broke the Nicholls all-time long jump record, earned third in the 400m dash and described her experience as "magical."
"We prepped all season for that meet and for the outdoor conference meet, and to be able to place is magical and amazing within itself. My teammates are amazing. Our coaches are amazing, and to be able to share that moment with them is pretty amazing, too," Alcorn said.
Chelsea Harrington, a sophomore sprinter and jumper, also broke a Nicholls all-time record and placed sixth in the long jump. 
Alcorn, Oboh, Troynae Walker, Eleana Callejas, Summer Seal, Keiondra Narcisse and Augusta Marie Christensen from the women's team broke personal records at the conference meet. 
On the men's team, Cameron Carter, Octavio Vasquez-Tilley, Preston Whisenhunt, Jerrian Brown and Hunter Batt broke personal records at the meet. 
Batt, a freshman mid-distance runner from Luling, said he could have done better at the meet but was happy with how the season turned out. 
"It was pretty good. The race went out a little faster than I was expecting or hoping to go out, so I think I could've cut a little bit more time, but overall, I am pretty happy with this season and the way it turned out in the end," Batt said. 
Vasquez-Tilley, a freshman distance runner from Ruston, said he could've done better at the meet, but he said if he stays consistent with what he is doing, the results he wants will happen. 
On March 14, the teams will be starting their outdoor season at the McNeese Cowboy Relays. 
Slekis said the focus of the meet will be to break some of the all-time records in the relays at that meet. 
"It is focusing on breaking some all-time marks in the relays and doing all the relays that are there… Just going in and having a fun relay competition gives us more of a chance to be team-oriented and just focus on putting a good effort out on the track for the first outdoor meet," Slekis said. 
Slekis said her goals for the women's team this outdoor season are to continue what it is doing now, getting more podium finishes, running personal bests and matching, or beating, the highest points scored in the past five years. At the indoor championship, the women's team tied the most points scored since 2015. 
Slekis said her goal for the men is that they can get some points for the outdoor meets. She said that the men's team is better at its field events outdoors than it is indoor. 
Vasquez-Tilley said that he wants to make the finals for outdoor track. He said that he is on pace and is ahead of the personal record he was expecting he'd be at now. 
Oboh said since the 60m hurdles are an indoor event, she will be competing in the 100m hurdles, 400m hurdles and the 4x400m relay during the outdoor season. 
Alcorn said keeping the energy from the indoor season will be fun and that she wants to get better throughout the season. 
"It's going to be fun carrying that out. You win, but you don't settle. You want to get better. You want to do better. You want to get another medal, so I think it's going to be great, and then, with the support from our team and our coaches, everybody is going to want to do the same thing," Alcorn said. 
Leave a Comment
About the Contributor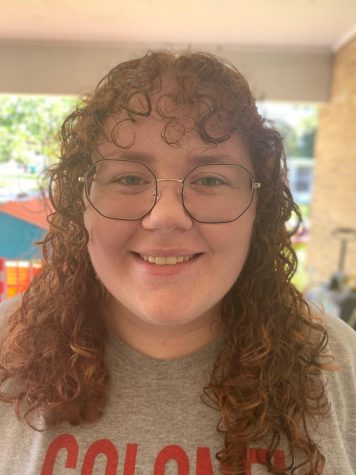 Jillian Landry, Magazine Manager
Fun Facts:

I love knitting and crocheting while watching crime shows, so basically I'm your average college-aged grandma. 


I love playing...