Track and field prepare for last meet before conference
Since the beginning of its indoor track season, the Nicholls State University track and field team has been gaining more personal records and school all-time records. 
On Feb. 14-15, the team gained 19 personal records and 12 new all-time records, with Omo Oboh, a sophomore sprinter and hurdler from Missouri City, Texas, setting a new school record for the 60m hurdles. 
"It's a good feeling because when I came here, I knew what I signed up for. I knew where Nicholls was at, where our track team was at and how I would play a part in improving our program. It feels good PRing and setting records; not only am I doing it, but my other teammates are also contributing to that," Oboh said. 
Feb. 21, the men's and women's track and field teams will be going to Louisiana State University to compete in their last indoor meet before the Southland Conference Championship meet. 
Having the team breaking records has been adding momentum to the team's energy. 
"The team has great momentum right now. Track and field is a sport where one of my former bosses summarized it best saying, it is a sport of momentum, while you are at the meet and throughout the season," head coach Stefanie Slekis said. "We don't compete all at once like the soccer team does. For us, we are at a meet for ten hours and you are feeding off of each other's performance and feeling that momentum as you go."
Assistant coach Courtney Lord said having records broken helps bring good energy to practice. She said on Mondays after meets, she will announce where the athletes are ranked in the conference top 15. Lord says the teammates will cheer for each other when they hear one of their names called. 
"I think it kind of motivates everyone else to try and have a better practice next week, so they can hear their name in the standings," Lord says. 
In preparation for the next meet, the team has been working on fine-tuning, recovery and preparing for the LSU meet. 
Slekis said she thinks there will be another big showing at the meet.
"We were short a couple of people having personal bests at the meet at Birmingham, so I think the goal is every single member of our team run a personal best, or compete a personal best, in their field event. That is kind of my biggest goal. I think if we do that, you will continue to see the all-time top ten marks. You're going to see us climbing up in the conference list," Slekis said. 
Both coaches said this last meet will help the athletes to prepare for the conference championship. For the distance runners, Slekis said some of the runners have to qualify for their races, so their performance at the LSU meet matters for them to qualify for the conference meet. For the others, this meet is about getting their confidence up. 
Lord said this meet will help them to become more polished and to get one more chance to prepare for the conference meet. 
"I think it is just going to help them feel more polished, and the hurdlers will get one last hurdle race in going into conference and hopefully, if it goes as planned, they'll feel their most confident going into conference. They'll get their best time. For the long jumpers, we'll get some good jumps in. They should just feel ready to compete after this meet," Lord said.
Leave a Comment
About the Writer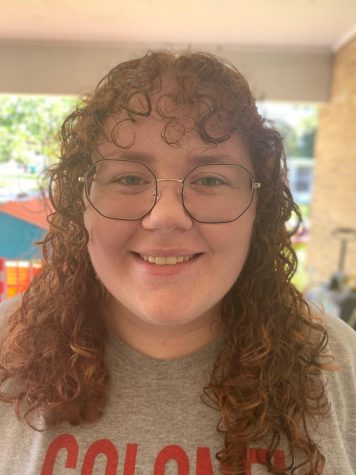 Jillian Landry, Magazine Manager
Fun Facts:

I love knitting and crocheting while watching crime shows, so basically I'm your average college-aged grandma. 


I love playing...