An athlete who plays two sports at a college level
For student-athletes, there is the challenge of balancing their sport and their classes. One Nicholls State University student-athlete balances two sports in addition to school work. 
Donnell Adair, a Thibodaux native and junior graphic design major, has been a dual-sport athlete since high school.
While at Thibodaux High, he competed in football, as well as track and field. He was the 5A state champion in discus his senior year.
"I really enjoyed doing track, because it helped me get a lot faster for football. I liked being a part of the whole community and doing all the stuff for the school in high school. I felt that it would be the same if I could transfer it over to college," Adair said. 
Football head coach Tim Rebow said football coaches like when athletes are able to run track in the off-season because they are still working on things needed for football. 
"Football coaches love that because in the off-season, their guys are running track and doing things that we always want to be able to do. There is still some change of direction. There is still muscle memory stuff. It's trying to increase their speed. I think it's a good combination. It is a little tougher when you get into college to do both but some of them can handle the workload," Rebowe said. 
When making the decision for which college he would go to, Adair had offers from the University of Louisiana-Monroe and Southern University to give him a chance to be a part of their track teams, but Nicholls was the only place that offered him football and track and field. 
At Nicholls, Adair is a running back on the football team and a sprinter on the track and field team. 
Adair said he is finding the balance between playing football in the fall and transitioning to track in the spring. 
"It's pretty tough having to work out and train for both, but I am finding a balance between it right now. It is a lot more soreness than normal, but it is something you can get used to if you work hard enough at it," Adair said. 
Rebowe said a concern he had was Adair missing time from classes with both sports and handling the workload that comes from the sports and classes. 
Rebowe said he has seen that Adair can handle both sports. He said Adair does weights with the football team and then will run and train with the track team. 
Track and field head coach Stefanie Slekis said Adair only participated in a few meets last year, but since the transition was good, he is able to do more this year. 
"Last year, Donnell came out for one or two meets for us. Because the transition was going well, Coach Rebowe gave him permission this year to come out for the entire season. He could compete and be prepared for both the indoor and outdoor meets, so it is a unique thing that he is getting to do two sports," Slekis said. 
Adair said he can find the balance between sports and his classes because he enjoys what he is doing in both sports. 
"You really don't have much time to do what you want. You don't have much off time. You have to have a hobby," Adair said. "If you are going to do both, you have to know that you like both sports because if not, you are going to get tired of one of them. You are going to quit one, or you are just not going to put in a lot of effort. If you are going to actually do anything in both, you really have to enjoy it, and it has to become a hobby."
Track and field assistant coach Courtney Lord said that Adair has a great work ethic that he brings to the track. 
"I think most football players have a pretty hard work ethic. You definitely have to get to this level, so that transfers over to the track. He is always the first one to want to push himself," Lord said. 
Leave a Comment
About the Contributor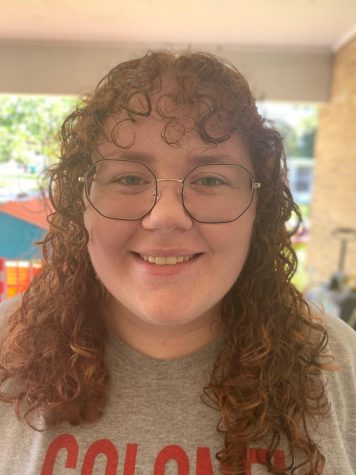 Jillian Landry, Magazine Manager
Fun Facts:

I love knitting and crocheting while watching crime shows, so basically I'm your average college-aged grandma. 


I love playing...