Nicholls alumna has returned to the Chef John Folse Culinary Institute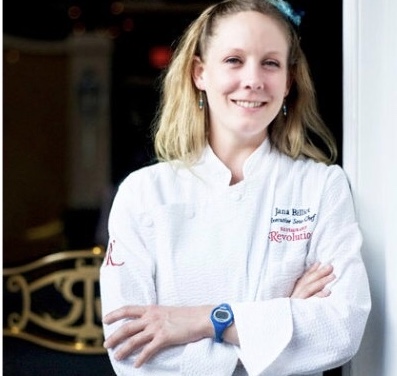 Chef Jana Billiot, an alumna of Nicholls State University, has returned to the Chef John Folse Culinary Institute this semester as an instructor after 13 years in the food industry.
Billiot attended Nicholls State University from 2003 to 2007 as a culinary arts major in the Chef John Folse Culinary Institute (CJFCI). During her time at Nicholls, she was a part of two externships, where she said she was able to learn what she wanted to focus on in her career.
Billiot's senior externship was at the restaurant, Tru, in Chicago, where she worked with and learned from Chef Rick Tramonto. She discovered the restaurant through a classmate's cookbook that was written by Tramonto.
"The food just looked really intense; it was very molecular and very detail-oriented," Billiot said. "That inspired me, and I knew that that was where I wanted to do my externship."
After the externship, Billiot decided to continue working at the restaurant, where she stayed for four more years. After working her way up in the restaurant through promotions, Billiot was ready to move back to Louisiana.
Billiot then heard that Tramonto and Chef John Folse were creating a restaurant in New Orleans called Restaurant R'evolution. Billiot immediately applied, got the job and moved back to Louisiana.
Once she returned, Billiot was able to take part in the conceptual stages of planning and building the restaurant. Billiot said the process took nearly two years before the restaurant actually opened.
"I feel like it was my baby because I actually helped create what it is now," Billiot said.
Once it was opened, Billiot worked there for many years, continually being promoted to new positions and receiving many accolades for her work there. Eventually, she said she felt she had become complacent in her career and was ready for something new.
"The grind, it wears on you," Billiot said. "I just felt like I was reaching a point in my life where I wanted to focus on my family and I's needs; I needed a change of pace."
Billiot said she didn't want to leave the industry, but she decided she wanted to partake in a different aspect of it. Shortly after, one of her former instructors from the CJFCI asked if she knew anyone who would be interested in an instructor position at the institute.
"It was just too good to be true," Billiot said.
Billiot then applied for the position at Nicholls, and, around Christmas, was informed that she had gotten the job and would be starting in January. She is currently an instructor for the student-run bistro program at the institute.
Billiot says that being back at Nicholls has felt very nostalgic, but also very strange.
"It's very familiar, and it kind of feels like home in a way," Billiot said.
Billiot said a lot of things since she was a student have remained the same. She said that a lot of the instructors who taught her when she was a student are still working at the CJFCI and that the familiarity has made her more comfortable in the transition.
She also said that many things are still new to her, such as the culinary building. She said when she was a student, the culinary program was much smaller and took place in Gouaux Hall.
"This setting is just night and day compared to what we did back when I was in culinary school," Billiot said.
Billiot said that it's good to be back at Nicholls and that the school provided her with many life changing opportunities that she wouldn't have had anywhere else.