Opinion: Eli Manning's retirement was expected
On Jan. 22, it was announced that after 16 years in the NFL, Eli Manning was officially going to retire.
Manning started his NFL career in 2004 when he was drafted by the Chargers. He was later traded to the New York Giants. 
With the Giants, Manning accumulated 57,023 yards, 366 touchdown passes, 125 victories and 236 regular-season games played. He was the Super Bowl MVP for Super Bowls XLII and XLVI. He attended the Pro Bowl in 2008, 2011, 2012 and 2015. He was the Walter Payton Man of the Year in 2016. On Feb. 1, Manning will be receiving the Bart Starr Award. 
Manning holds the Giants' passing records for attempts, completions, yards, touchdowns and most 300-yard games. 
After week two of the 2019 season, Manning was benched for rookie quarterback Daniel Jones. While Jones was recovering from an ankle injury, Manning was able to start a few games. 
In December, Manning mentioned he did not want to be a backup quarterback again next season. 
At that point, I was thinking that there was a high probability that if Manning remained on the team, he was going to end up as the backup again. I figured his retirement was coming, but I wasn't sure when. 
On Jan. 24, Manning spoke to the press about his retirement.  
"It's rare to have the privilege of playing an entire career with one organization. I'm proud to be one of the few, but even more so that it was as a Giant…Wellington Mara always said 'Once a Giant, always a Giant,' for me, it's only a Giant," Manning said. 
NFL players weighed in on Manning's retirement. Some I found humorous, like Tom Brady's comment. 
"Congratulations on your retirement and a great career Eli! Not going to lie though, I wish you hadn't won any Super Bowls," Brady tweeted. 
Larry Fitzgerald also commented on Manning's retirement. 
"Congratulations to one of the fiercest competitors the league has ever seen. Man of the Year, Super Bowl champion, philanthropist and ambassador for the game…the game won't be the same without you, my friend," Fitzgerald said. 
I've seen many comments from Giants fans over the past couple of days about how many people were upset about not seeing Manning play again next season, and I couldn't help but think that if he did stay, there was a high probability of him not playing as a starter again.
Leave a Comment
About the Contributor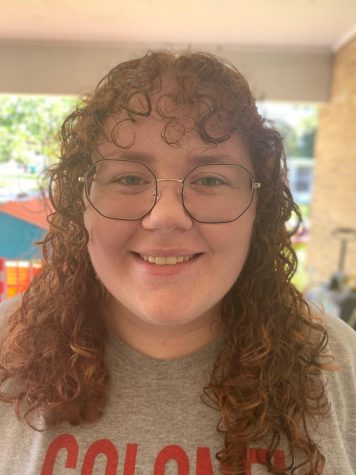 Jillian Landry, Magazine Manager
Fun Facts:

I love knitting and crocheting while watching crime shows, so basically I'm your average college-aged grandma. 


I love playing...