As long as it's red, it'll work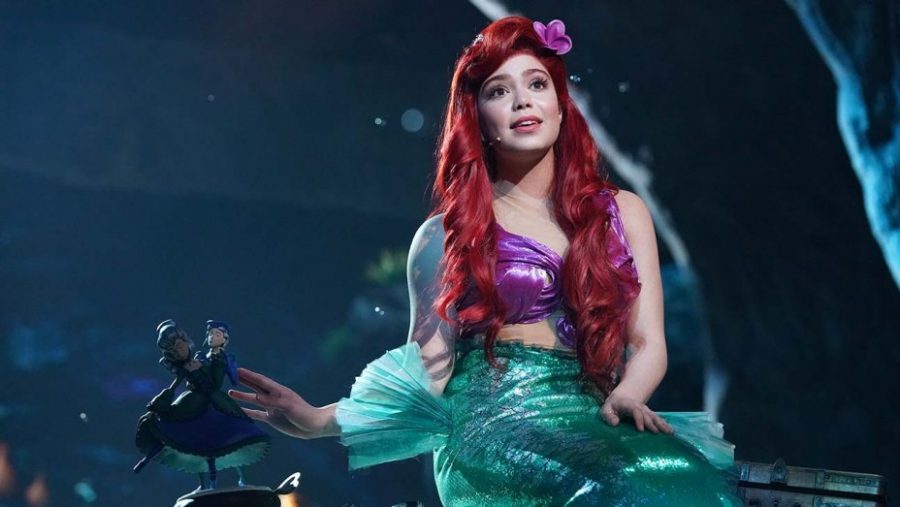 In honor of the 30th anniversary of the Disney classic, The Little Mermaid, ABC sought out to give fans of the original movie a taste of nostalgia and a celebration of the film's legacy.
What viewers got, however, was a strange, choppy hybrid stage show that mainly relied on clips from the original movie playing in the background. It felt as though the movie was playing with sporadic interruptions from the live cast to perform musical numbers or provide outside dialogue. 
The Little Mermaid Live! was accused of being a half-hearted attempt at a remake of the original movie, the costumes were roasted online and it simply just lacked that taste of Disney magic. Even the show's all-star cast could not save this sinking ship. Moana's Auli'i Cravalho starred as Ariel, Queen Latifah as Ursula, "It Wasn't Me" singer Shaggy played Sebastian and John Stamos was Chef Louis. 
The internet was not merciful. The seemingly cheap props and costumes were called into question—most notably Shaggy's Sebastian costume. Shaggy donned red boots, red jeans, a red jacket and red fingerless gloves. Sebastian is a crab. Crabs don't wear gloves; they have claws. Twitter called out this weird attempt at a "costume."
ABC's senior vice president of alternative series, specials and late-night programming, Robert Mills, responded to this backlash via Twitter. He claimed that Shaggy wore crab claws in early rehearsals and they looked "ridiculous." Claws would have made the character look like an actual crab, but I digress.
A high point of the show was Queen Latifah's performance of the villainous masterpiece "Poor Unfortunate Souls." Latifah belted out the song and her octopus costume mesmerized the audience as her many tentacles moved about.
Disney made waves when a live-action remake of the original 1989 film was announced. Filming is rumored to begin in April 2020 with a 2021 release. The only officially announced cast member is Halle Bailey, star of Freeform's Grown-ish. Rumored cast members include Melissa McCarthy as Ursula, Awkwafina as Scuttle, Jacob Tremblay as Flounder and Javier Bardem as King Triton, Ariel's father. The film seems to still be searching for their Prince Eric. Harry Styles was offered the part and reportedly met with director Rob Marshall. He decided to pass on the role, however, much to the disappointment of fans. 
The new The Little Mermaid will follow upcoming remakes of Lady and the Tramp and Mulan, adding to Disney's growing pile of remakes of questionable quality. The flop that was the live performance only adds to the skepticism surrounding the film's official remake. Disney seems to view these remakes as a way to make more profit from old, previously successful ideas.
Some may say that if it isn't broke, don't fix it, but sometimes it is best to leave these classics alone, or else they can suffer the same fate as The Little Mermaid Live! No one wants to see the new film roasted and memed to death upon its release. Let's just hope that the new film version of Sebastian has claws instead of jeans and fingerless gloves.