Nicholls band uses diverse music to bring joy to football fans
Dr. Gabriel Arnold, the director of athletic bands, tries to create a fun and exciting environment at each of the football games through the music the band plays.
Arnold said he got into music through church. He said singing in the choir made him feel good. He explained that he wanted to continue that feeling by playing in middle school and high school band. 
"I found myself playing an instrument in middle school and then continuing on until high school, and I ended up going all the way through teaching high school band and eventually got my Ph.D. in it and became director of the university band in Hawaii. Then, I decided I wanted to come back to the mainland, and that's when I found out where Thibodaux, Louisiana, was," Arnold said. 
Arnold said his main influence in music was his high school band director. He said his band director saw something in him and pushed him to be the best that he could be.
"He was a very determined person, and he saw a lot in me that I didn't necessarily see in myself. He really pushed me to be the best that I could be, and I started in high school, just auditioning for different roles…he really built my confidence up at a young age that I could really go far in this music arena," Arnold said. 
Arnold said he wants people to be excited about being at the football games and to love being in the atmosphere that the band creates. 
"We want people to move around. We want people to be excited about Nicholls football. We want to give them an experience that after they leave the game, they say 'I had such a great time because the band played great music. It was entertaining by the halftime show. We really love the atmosphere that the band creates when we're there,'" Arnold said. 
Arnold said he tries to create entertainment that reflects the diversity of Louisiana culture.
"I listen to the music that's around the culture of Louisiana; it's so diverse, with so many different mixes of music, from Zydeco to New Orleans jazz, so that's essentially some of the parts that I said, 'okay, we need to incorporate that into some of our music,'" Arnold said. 
Arnold said for the stand tunes, he listens to what it sounds like the people want to hear and what they will appreciate the most. He also said that for the halftime shows, he listens to what the band members want and combines it with what he would like to do. He said he'll combine those things and come up with three to four shows for the band to perform.
Arnold said having the live music at the games adds to the excitement. 
"There's nothing like listening to a live band and live instruments. That's fun and exciting, and it gives you those goosebumps, and that power and that sound is right there. It's been going on for years, hundred of years now, with the first college marching band, and we want to just continue that excitement and that joy of having live musicians there," Arnold said.
Leave a Comment
About the Contributor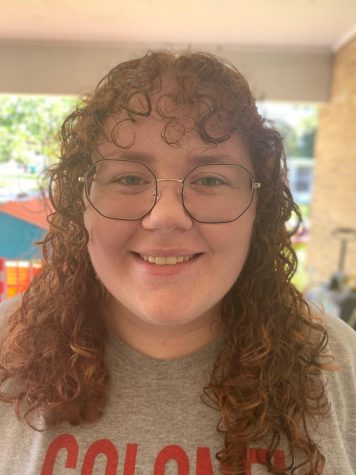 Jillian Landry, Magazine Manager
Fun Facts:

I love knitting and crocheting while watching crime shows, so basically I'm your average college-aged grandma. 


I love playing...