The challenges of being a foreign athlete
Foreign athletes have challenges coming here to play their sport, like having a language barrier, weather differences and distance from home, among other challenges.
Julia Garcia Verges, a sophomore cross-country/track runner from Barcelona, Spain, said in Spain, she couldn't have competed in running while attending college, so she decided to come here so she could do both. 
"I came here because in Spain, when you go to the university, you cannot compete in the university…So, I liked it here because I saw the universities had a lot of teams and multiple sports you could play and everything and I was like 'oh my God, I want to keep running and keep going and keep studying.' In Spain, it was really hard, because I'm a biology major and I'm in pre-med, so in Spain, there was no way to go and study pre-med and be able to join a club, so it was too much," Verges said. 
Verges said coming here, she was able to attend classes while having her track to practice at ten minutes away. She said in Spain, she would have had classes in one place and might have to go to another city to practice running. 
Warut Wongrungroj, a sophomore golfer from Bangkok, Thailand, said one of the challenges for him coming here was the language barrier. 
"Sometimes, it is hard for me to communicate with my team because English is not my first language, and then, sometimes I don't understand what they are trying to tell me," Wongrungroj said. 
Verges also said the language barrier was a challenge, especially since English is her third language. 
"I'm from a part of Spain that speaks another language, so I speak another language, and then Spanish and then a little bit of English, so I think the main thing that was scary to me was that I didn't know if I would be able to make friends or like how people would be because it's a whole different country," Verges said. 
Verges said she thinks her English has gotten better and that at first, it was weird for her trying to understand everyone, because of all of the different accents. She said once she understood the language, she was fine. 
Roosa Hurmerinta, a senior soccer goalkeeper from Turku, Finland, said she had to learn the soccer commands in English, so for a while, she wouldn't say anything on the field, but she said spending time with her teammates helped her learn the language. 
"I just tried to hang out with my teammates as much as I possibly could to get used to speaking the language. Spending time with American people to get used to the mannerisms and stuff… It was hard learning the commands in English. I knew them in Finnish, but it took me a while to start talking on the field, telling my players where to go," Hurmerinta said. 
Hurmerinta said playing soccer here had some differences than when she played in Finland. She said here, the sport is more physical, and they do weights here, which she said has helped her to become tougher on the field. 
Wongrungroj said he had to adapt to the weather here. He said in Thailand, it is usually around 90 degrees but here, towards the end of October, it cools down. He said he had to get used to playing in the cooler temperatures.
"Last year was my first season here, so it took me a while to adapt to the weather because I'm not used to wearing a pullover when I play golf because I feel like I can't swing when I wear [a pullover]. Last year was the first time I had to wear it when I play, so it took me a couple tournaments to feel normal when I'm playing," Wongrungroj said.
All three athletes said being a part of a team is helpful for them being here. 
Wongrungroj said when he got here, there were people on the team from here that helped to explain what the golf course was like, as well as the culture here. 
Hurmerinta said having a team to be on when she got here helped her to make friends. She said she has 20 other women there, no matter what she needs. She said that her team here is more like a family. 
"Here, you go to school with these girls, live with these girls, it feels more like a family, and that's special because I don't have anyone else here. This is like playing with your family," Hurmerinta said. 
Verges said her team is the family she has with her here. 
"I think that's the best thing because I think I would not be able to be a regular student, I'm so sorry for the other regular students, but I do everything with [my team]. If I have to study, I go to the library and they're all there; if I have to go eat in the cafe, they're all there like it's a family I have with me," Verges said.
Leave a Comment
About the Contributor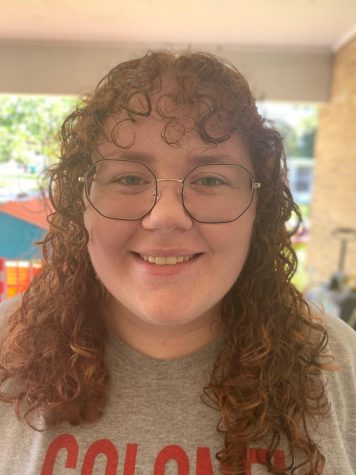 Jillian Landry, Magazine Manager
Fun Facts:

I love knitting and crocheting while watching crime shows, so basically I'm your average college-aged grandma. 


I love playing...