A day in the life of a student athlete
Being a student, going to classes and managing schoolwork can seem like a lot, but it is even harder for the student athletes on campus.
Blaire Laiche, a senior pre-dentistry major from Gonzales and midfielder for the Nicholls State University soccer team, said it is challenging with the limits that are put on her time.
"I go from class to soccer, and sometimes soccer to weights, and then, I go home. Then, I'll have to eat and shower, and then, I have to study. So, usually, I have a pretty long day. I'm usually up around 7:30 for my first class and not home and studying until 6 p.m., and I'll probably study until ten o'clock. Then, get rest, go to bed, wake up and repeat," Laiche said.
Laiche said that she likes to plan out her week so that she can prioritize the most important things she needs to do for the week. She said she does this so that she can be more intentional with her time. She also said that she works at the library, and when she has free time in the afternoons, she'll spend time at St. Thomas Aquinas.
"I work at the library, so in between classes, I'll fit shifts in just to get a little extra money to help out, and then when I'm not there and I have free time in the afternoons and I don't have a bunch of assignments or tests, I'll usually spend time at St. Thomas and do things like bible study or just stuff that, still is trying to build me up," Laiche said.
Laiche said there are some times when she gets stressed and sometimes, she leans on her teammates and close friends to help her get through it.
"I think a lot of stress management is leaning on my teammates and leaning on my friends for support, so in the days that I am feeling down, letting someone know 'Hey, I'm having a rough day, I just need you to help me out, like pull me through this day, help me get through it, remind me of why I am doing this,' and just really leaning on my close friendships," Laiche said.
Laiche said learning to deal with the stress that comes with athletics and academics will help her to deal with the stress from her future career goals.
"I definitely think in the field of any career, there is going to be stressful times, so being able to handle stress like I'm getting first-hand practice for that and working as a team no matter where you're working, you always have to work with a team, so just being able to work with different people from all different backgrounds is definitely going to be something that is useful in the future," Laiche said.
Laiche is interested in working within the pediatrics field of dentistry, and if given the opportunity, she would like to work with special needs patients.
"I am really interested in pediatrics and then special needs, so if given the opportunity, I would like to work with special needs patients, most likely children, and just build a practice where people who have developmental disabilities or maybe not your typical patient can come feel comfortable and get the treatment they deserve," Laiche said.
Leave a Comment
About the Contributor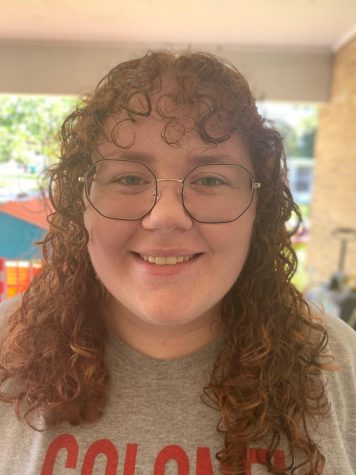 Jillian Landry, Magazine Manager
Fun Facts:

I love knitting and crocheting while watching crime shows, so basically I'm your average college-aged grandma. 


I love playing...