Nicholls Golf team is preparing for the spring semester
With the struggles of the fall schedule behind them, the Nicholls State University golf team is working towards improving themselves for the spring schedule. 
Head Coach James Schilling said this year's team is young, mostly freshmen, and includes many golfers from other countries. He said many of them had to work on making a transition to playing here. 
"We have a very young team this year. A lot of our tournaments, when we went to them, we sometimes only had one [junior], Conner Campbell, and he didn't play in all the events, either. So, we're dealing with mostly freshman," Schilling said. 
Schilling said it can be tough for the athletes, focusing on their academics while also dealing with a dual semester sport that has many tournaments. He said the athletes have to manage their time and get used to being on the road. He also said they have to get used to having long days and spending time in hotels. 
Nils Dobrunz, a freshman golfer from Berlin, Germany, said he had to get used to the courses here when he started and that it is something he will be working on in preparation for the spring schedule. 
"It's way different compared to Europe, the courses, especially the greens; they have a lot of grain that the grass is growing in one direction, and you have to see that, so practicing a lot, seeing that on our home course, La Tour, and getting used to around the greens… that's the biggest thing. I'm still getting used to it," Dobrunz said. 
Dobrunz said it will be easier for him to improve because of the weather here. Since it doesn't get as cold here, as it would in Germany, he can work more on the course. 
"The good thing about the region here is that I can play, hopefully, all year because it's not getting that cold. In Germany, it's freezing, and you can't play. You can just work on the range and hit balls, and that's not the best way to improve around the greens and on the greens," Dobrunz said. 
Ben Baker, a sophomore golfer from Christchurch, New Zealand, said he needs to work on his performance for the spring because this fall wasn't his best. 
"I didn't have my best season, so I have a bit to work on. I played well last semester, so if I can go to my stats and see what I had done wrong and go from there…I need to put myself in a better position, I was losing shots, and I was hitting it where I shouldn't have been hitting it, it makes it hard. Off the tee is where I need to get better," Baker said. 
Baker said to improve on those things, he will go to the golf course, the range and the coach for FlightScope, which is a device that can measure his swing and take different readings. He said in the next week or two, he will take a look at what he did wrong and keep practicing and working on improving himself.
Schilling said since they are on a break until the spring, the athletes can focus on their academics and some individual improvement can occur. 
"They can focus on their academics, we can do some individual work, we can learn from the things we maybe didn't do so well in the fall semester and we have a little time to kind of reflect. We had a little time off now, and we can come back and we can look at the things each person individually needs to focus on, because if each individual will improve, that's how the team improves," Schilling said. 
Leave a Comment
About the Contributor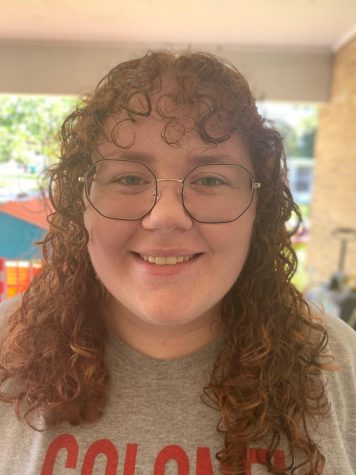 Jillian Landry, Magazine Manager
Fun Facts:

I love knitting and crocheting while watching crime shows, so basically I'm your average college-aged grandma. 


I love playing...