Nicholls athletics introduces Brunching with the Colonels event
The Nicholls State University athletics department is introducing the inaugural Brunching with the Colonels event, benefiting women's athletics, on Sunday, October 20, in the Cotillion Ballroom.
The event was created by Lindsey McKaskle, the executive associate athletic director for internal affairs, and Katie Callahan, assistant athletic director for external engagement. 
McKaskle said the idea originated because they were trying to figure out a way to bring awareness to women's athletics since much of the attention from fans goes towards bigger sports. She said for the last year, they were talking about planning an event to benefit the women's sports for fundraising opportunities. She said with the focus on bigger sports, like football, people might support women's athletics if they had more information about them. 
The indoor and beach volleyball head coach, Kallie Noble, said having the brunch allows for people to see what women's athletics has to offer.
DoBee Plaisance, the women's basketball head coach, said having events like the brunch helps people to learn about the people involved with Nicholls athletics and what they are doing.
"When we can convene in a social setting like that and you have an opportunity to speak with people and just mingle with people and make them aware of what we are doing and how we are doing it, how special our student-athletes are and just give them an inside look, I think behooves us and benefits everyone," Plaisance said. 
The brunch will have a speaker panel with Nicholls' three female head coaches of women's sports and two student-athletes. The panel includes Plaisance, Noble, Stefanie Slekis (cross country/track and field head coach), Emily Venable (beach volleyball/volleyball student-athlete) and Airi Hamilton (basketball student-athlete).
Slekis said she thinks that having the panel will give people a formal opportunity to get to know women's athletics. 
"The panel I am really excited about because I think we will give everybody that formal opportunity to get to know us. Lindsey has some set questions that she will ask us, then, it will be open to the women and men in the room," Slekis said. 
Plaisance said she would like to share an in-depth look at women's athletics and what they do.
"I love a really tough question, so I hope I have a number of tough questions because I'd really like to share in-depth of what we do, how we do it and share with people that you're not just supporting [a specific sport], you're supporting some really quality individuals, and there's a lot of great substance here," Plaisance said. 
Noble said the brunch and panel is a great way for women who might want to become coaches to learn more about women in the industry from the panel. 
"I think it's great for other females who may be aspiring to become coaches or be in collegiate athletics or even high school athletics to be able to talk about being a female in this industry and the work that it takes and the dedication," Noble said. 
Tickets for the brunch can be purchased on the ticket office's website. Single tickets are $50 per ticket and tickets for a whole table of eight are $350 per table. 
Slekis said that even if a small number of people attend the brunch, it will help those people get to know the programs and their needs. She said it will also help the people who attend to better understand the impact the programs have on young women. 
"I am excited about more men and women that attend that are alumni or supporters learning about our programs, hearing about the struggles and triumphs of women's athletics. I think it's an interesting time for women's athletics," Slekis said. 
Leave a Comment
About the Contributor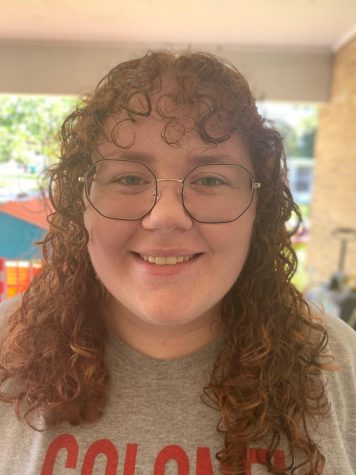 Jillian Landry, Magazine Manager
Fun Facts:

I love knitting and crocheting while watching crime shows, so basically I'm your average college-aged grandma. 


I love playing...