Soccer Spotlight: Elisabet Gunnthorsdottir
Elisabet Gunnthorsdottir, a senior computer information systems major and soccer midfielder from Grindavik, Iceland, had to make a transition her freshman year from playing soccer in Iceland to playing soccer at Nicholls State University.
Gunnthorsdottir said playing soccer here is different than playing back home because it is more disciplined here. 
"I grew up in Iceland, so we only have club teams, so I used to just play clubs. Then, I came here, and it was a whole different experience…[There,] you're on your own. If you don't do your stuff, there is no one to take care of you, you're just gone. Here, someone helps you adjust, helps you know what to do, how to act and other stuff. There is a lot of discipline here, and it's not what I'm used to back home," Gunnthorsdottir said. 
Gunnthorsdottir said adjusting to playing soccer here, she had to learn to play using more speed. She said soccer in Iceland is more technical, rather than the focus on speed here. She said it wasn't hard for her to adjust because of how welcoming and nice the people were. 
Gunnthorsdottir said it was also an adjustment for her to speak English every day and to get used to the heat. 
"The biggest thing is the heat. I still cannot adjust to the heat. It is so hot and humid here. It's so hard… I think speaking English every day, more than you're used to and having to do everything in English, it is an adjustment, but everyone is so helpful that it wasn't as hard as I thought," Gunnthorsdottir said. 
Head Coach Danny Free said Gunnthorsdottir is very helpful in the transition of other international athletes on the soccer team. 
"All internationals, even myself, you kind of gravitate towards each other to help each other through. We've got a few young German girls and a few young internationals; she's helped them a lot, whether it's adapting to the language or adapting to certain things, she's always there to help," Free said. 
Gunnthorsdottir said it is an accomplishment to her, being able to be here, playing soccer as an international student. 
"When I think of accomplishments, I think getting here. As an international student playing soccer going to college, that's just basically what I think of when you mention accomplishments, just being a part of the soccer team, a D1 team at Nicholls, at this school. I think that's an accomplishment enough for me," Gunnthorsdottir said. 
Gunnthorsdottir said she can use soccer as a therapy outlet. 
"It's always kind of been my way of therapy, dealing with all the stuff that comes with stress, like mental issues and stuff like that. I've always been able to cope with soccer, like to use my anger on the soccer fields… It helps you cope with stress, anxiety and anger, but also it makes you happy. Every time I step on the field, I am so happy. When you do something you love everyday, it can't be bad for you," Gunnthorsdottir said. 
Hannah Bodron, a junior midfielder from Houston, Texas, said Gunnthorsdottir's love for soccer has helped her to appreciate the sport more. 
"Soccer is everything [for her], and she has taught me how much to care for it. She cares so much about it, and it's taught me to care so much about it and want to do well," Bodron said. 
Bodron said she has learned from Gunnthorsdottir to give everything with soccer and that teamwork is important. 
Gunnthorsdottir said with having five games left to her college career, she is going to keep fighting until the end. She said with five games left, she and the team want to finish strong since the season hasn't gone as planned. Gunnthorsdottir said she doesn't want to leave college thinking that she could've done something more. She said she is going to keep fighting until the end of her college soccer career. 
Bodron said Gunnthorsdottir is the one who brings the energy to help control the game both on and off the field. 
"Betty is the one in the middle who controls everything. She's the one that, on and off the field, is getting us pumped, and she wants us to play our best. On the field, she brings the energy with her voice. She talks a lot, and whenever she is in the middle, she makes shots happen," Bodron said. 
Free said that for each game, Gunnthorsdottir always has an opinion on the game, something that the team will miss about her. 
"She always comes in and talks. She always has an opinion on the game, which is good. She is knowledgeable of the game, so we'll miss that side of her," Free said. 
Gunnthorsdottir said she has found a family with the soccer team and the Nicholls community, and she said it is something she will miss after she graduates. 
"[Soccer] becomes your family, like you basically look at your head coach as your second dad, but it becomes your life…This is a small community. It's so welcoming wherever you go. You go into the cafe and you have Ms. Judy and Sunny and all of them, and then you go into the union, and there is always someone there willing to talk to you. It's just a whole family," Gunnthorsdottir said. 
Gunnthorsdottir said she is graduating next fall and that she is still unsure of what she wants to do after, but she is thinking of staying here and getting into coaching. 
"I like it here. I want to stay here. I want to get into coaching more. I want to be able to educate myself more… I want to succeed in that field. I think I just have to take it day by day to see…It's kind of hard to make a decision but it's all going to fall into place. Whatever I am supposed to do, it's going to happen. I just need to be patient," Gunnthorsdottir said.
Leave a Comment
About the Contributor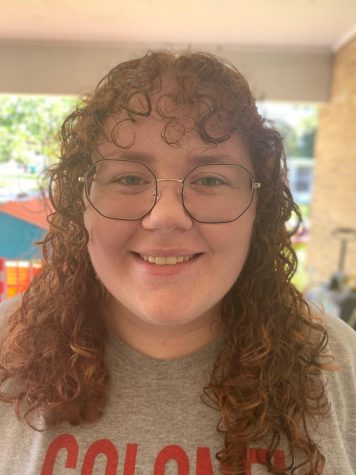 Jillian Landry, Magazine Manager
Fun Facts:

I love knitting and crocheting while watching crime shows, so basically I'm your average college-aged grandma. 


I love playing...