Tennis Spotlight: LingFeng Gu
LingFeng Gu, a senior marketing major from Guangzhou, China, is living out her dream of playing tennis in America.
Gu started playing tennis when she was ten.
"My parents just asked me to start playing tennis, and I started playing when I was ten. I just wanted to come to America to play tennis. That was one of my dreams, and I just started working on it," Gu said.
Gu said that she has had a great tennis experience during her time at Nicholls State University.
"Since I came here, I had a great tennis experience in college. I had pretty good teammates, even though my teammates changed every year, but they're all good," Gu said.
Gu said tennis has impacted her by helping her to become mentally strong.
"I know how to be mentally strong. I [would] learn something on the court, and I'd use it off the court in studying and everyday life," Gu said.
Gu said she is hoping to make it to conference this year while also having fun.
"I hope we make conference… I just hope that I have fun, since it's my last year, and if we can, just make conference," Gu said.
Gu also said she is doing an internship with the athletic department, but tennis is the only other thing she is involved with. She said some of her accomplishments are competing in matches and her academics.
"I clinched some matches, but I didn't get any titles in tennis… I got rewards from the Dean's Office from getting a good GPA," Gu said.
Gu said she is going to miss tennis, her school life and her tennis friends after she graduates.
"I will miss tennis for sure because I won't practice as much as I do now. I'll miss the school life when I start working every day. [I'll miss] my friends and teammates," Gu said.
After she graduates, Gu wants to intern for a year, and if she finds a good job after, she'll do that. If not, she said she wants to get her master's degree.
"I want to do my master's degree somewhere else… If I could be a GA, if they could pay for my school, I can be an assistant coach or whatever. I'd be happy to do that," Gu said.
Tennis head coach, Greg Harkins, said Gu is a hard worker with a big heart when it comes to competing.
"Ling is a hard worker. This is her senior year, so she has played all across the lineup for us. We ask a lot of all the players; it's challenging being a Division I athlete. Sometimes, she's small in stature, but she is big in heart when it comes to the fights, and that's what we like about Ling," Harkins said.
Harkins said Gu is learning life skills from playing tennis, and he said he hopes when she leaves the program, she can make good decisions in life.
"She's learned the levels of responsibility we ask of student-athletes over the years. It takes time, as you get into the system, to understand your routines and managing yourself on and off the court. That's a big part of being a student-athlete, but more importantly, what she's learning is life skills. When she leaves the program, hopefully, she can make good decisions in the direction she wants to go," Harkins said.
Leave a Comment
About the Contributor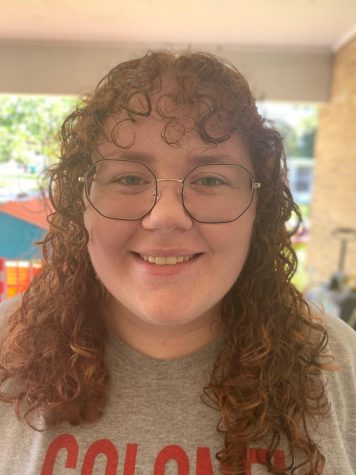 Jillian Landry, Magazine Manager
Fun Facts:

I love knitting and crocheting while watching crime shows, so basically I'm your average college-aged grandma. 


I love playing...