Nicholls volleyball pursuing conference tournament
The Nicholls State University volleyball team is pursuing a season where it gets to the Southland Conference Tournament. 
Meghan Wozniak, a junior setter from Chicago, said the team is more determined to get wins after a transformation in mentality from their last coach until now. 
"The way our whole team has transformed from our first coach until now is tremendous. Our team chemistry, our bond and our feel on the court; we're just moving as one unit, rather than six individuals on the court. I think that's really important in winning games because it is a team effort, but just the whole vibe overall is so different. We're so much more positive and determined to go get a win, and we are finally out of that losing mentality, so it's a good feeling," Wozniak said. 
Kate Hoerdemann, a junior outside hitter from Bloomington, Illinois, said that the team is doing a good job of sustaining their goal of getting to the conference tournament.
"We're getting in the gym every day and putting in good work, and I think it's obviously paying off in the games. Our blocking has gotten so much better, and we are hitting smarter shots," Hoerdemann said.
Wozniak said the team is working on getting better each day, doing everything at 100 percent.
"One of our mentalities is getting one percent better every day, so getting in the gym, making it like our last practice and trying to make every practice better than the last one. If we don't get a drill done, we do it again until we get it done. We don't just quit it and do it 50 percent; we get the drill done and do it 100 percent," Wozniak said. 
Wozniak said that she thinks the team's mentality of going 100 percent at everything has allowed them to be in the top five of the conference. 
Hoerdemann said the team is putting in the work at practice and forming an energy that is carrying over into games. 
"When we get a point, we come to the middle, and we're celebrating. I think everybody is all in. That's our saying: 'All in.' I think we all put in the work at practice, we keep that energy, and I think it's really gone over into the games," Hoerdemann said. 
Head coach Kallie Noble said they are pushing the players to their limits and challenging them.
"We're just pushing them to their limits and challenging them to finish matches and sets as soon as possible, and we just keep working hard and being disciplined," Noble said. 
Noble said the team is working on minimizing its errors and working on being in pressure situations, like match point.
"This week, we are really focusing on minimizing our unforced errors on our side of the net and putting them in pressure situations where they're serving for match point and being able to execute off the serve rather than having to battle back and forth; really just minimizing our errors," Noble said. 
Hoerdemann said the team has been working on it's blocking and hitting better shots at the net.
Hoerdemann also said keeping the energy they have is going to help them win more games, getting them to the conference tournament.
"I think just keeping [the energy] and building on that each practice and each game… I think energy is the biggest thing that helps you win, just the momentum of the game, having the energy on your side is important," Hoerdemann said. 
Wozniak said it feels amazing to be a part of a team that is winning more conference games this year than last year. 
"Last year, only having a couple wins, it's not a good feeling and it's not very encouraging coming in and doing that every time, but this year, we made the change. We're making really big strives in the conference. It's such an exciting feeling to be able to turn the program around and to be one of the people here to do it. It's such an amazing feeling," Wozniak said.
Leave a Comment
About the Contributor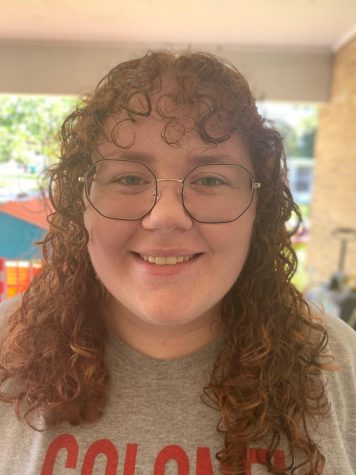 Jillian Landry, Magazine Manager
Fun Facts:

I love knitting and crocheting while watching crime shows, so basically I'm your average college-aged grandma. 


I love playing...