Tennis Spotlight: Mariia Kozachok
Mariia Kozachok, a senior tennis player from Dnipro, Ukraine, who is majoring in accounting, has found many friends after coming to Nicholls State University to play tennis. 
Kozachok said that she has been playing tennis since she was seven and was originally going to become professional. 
"I was going to play pro, but then, I got injured and my parents didn't have money anymore. That's why I decided to go to the U.S. to play the sport in college," Kozachok said. 
Kozachok said that tennis has become her life. She also said that coming to play tennis at Nicholls has taught her how to manage her time. 
"I have been playing since I was seven, so I have been playing for 13 years, so it's like my life. Honestly, it's my life… I feel like here, I have improved myself and improved my tennis. It's a good challenge, it's a good school, to play tennis in college because you manage your time with school work and tennis. You start to manage your time and try to balance everything. It's tough, but it's a good school life," Kozachok said. 
Kozachok said she is hoping to qualify for conference this season. 
"It's my last year because I'm a senior, so I hope we qualify for conference, for finals. My goal is to qualify for conference," Kozachok said. 
Other than tennis, Kozachok said that she works at the recreation center and tries to get involved on campus when she can. 
Kozachok said that she is looking for a job in the U.S. after she graduates because most of her friends are here, rather than Ukraine. 
"I am looking for a job for after graduation because I want to stay here…I made a lot of friends. I met a lot of good people. I have a lot of friends. I have more friends here than back home, that's why I'd rather stay here than go home," Kozacahok said. 
Laura Lopez, a freshman tennis player from Madrid, Spain, said that Kozachok is very helpful. 
"I met her two months ago, more or less. She is so nice. She is a senior; I am a freshman. She helps all the time," Lopez said.
Lopez said that the first day she got there, Kozachok asked her how the training was, how her classes were and if she needed help. 
Lopez said that Kozachok brings a positive energy that helps Kozachok win matches. 
"She is always saying 'come on, let's go.' [She is] always positive with energy. I think that helps her on the court to win matches and score more points, because, for example, if she was negative, she would be worse. I think that she plays well because of her attitude on the court," Lopez said. 
Leave a Comment
About the Contributor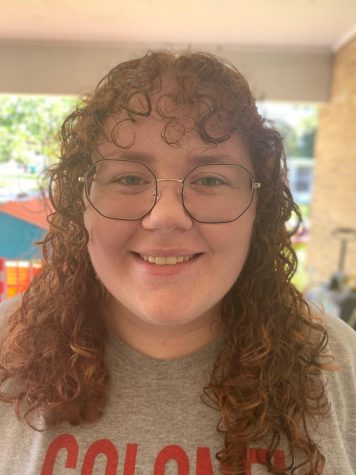 Jillian Landry, Magazine Manager
Fun Facts:

I love knitting and crocheting while watching crime shows, so basically I'm your average college-aged grandma. 


I love playing...