Volleyball's Best Start in School History
The Nicholls State University volleyball team is off to its best start in school history with a record of 6-2.
Volleyball Head Coach Kallie Noble said it is exciting to be a part of this volleyball program.
"It's so exciting. The community here in Thibodaux has really embraced me since I've gotten here, and it's just fun to see the stands full of young volleyball players. And so, it's been really exciting," Noble said.
Jackie Alanis, a freshman outside hitter from McAllen, Texas, said that being on the team and setting this record is amazing.
"Being a freshman on this team is really amazing, knowing that we are doing way better than what we did last year, knowing that we have this new class coming in and all these new coaches that are here to help us improve, that want us to do better than last year because they know we can do way more than what we show," Alanis said.
Katie Jones, a sophomore right side/outside hitter from Mont Belvieu, Texas, also said how special it is to be a part of the volleyball team this season.
"It's something special. You never really think it's going to happen until you're doing it. We talked about it all last summer and last spring, how we were going to make a change from last season, and being here is so surreal," Jones said.
The volleyball team started its season with a six-game win streak, but at the LA Tech Invitational, lost to Louisiana Tech University and the University of Louisiana-Monroe. The team is looking to bounce back from the two losses this weekend during the South Alabama Invitational.
"This week we have just focused on the errors we made during both matches that we lost and just trying to improve on those so we can go this weekend and go 3-0," Noble said.
Noble said the team is working on its shot selection, communication as a team and execution.
This weekend, the team will be playing Louisiana Tech again after losing to them last week.
"We definitely learned that it's mental, it's physical partially. Mentally, we slacked off that fifth set, and if we come out with the intention that we will win set one, set two and set three, I think we'll be fine going into the weekend and beating them solidly," Jones said.
The team plans to get back to winning its games and carry that energy into the conference games.
"I definitely think mentally, last weekend was really frustrating and it was a good learning lesson going into conference because you don't want to go into conference being completely undefeated… I think for me especially, it was definitely like I need to focus on this when I come into practice next week, not about we lost; that's so sad. It's changing things to make things better next weekend," Jones said.
Alanis said that the team is not going to focus on the fact that they lost but that they will move forward from the losses.
"We say these two games happened; they weren't our best games, just leave it in the past. We're focusing on this, what's happening right now, what's going to happen tomorrow and what's going to happen for the next game. We're going to work on this and hope it's going to go positive for the next game to do better and achieve our goal," Alanis said.
Leave a Comment
About the Contributor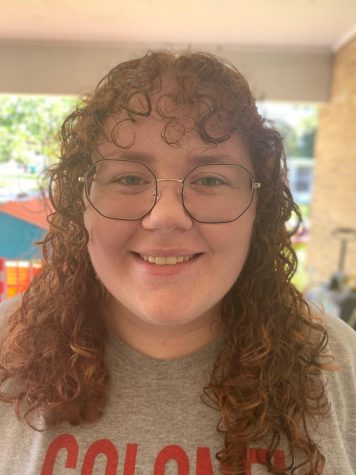 Jillian Landry, Magazine Manager
Fun Facts:

I love knitting and crocheting while watching crime shows, so basically I'm your average college-aged grandma. 


I love playing...