Soccer Spotlight: Kristy Helmers
Kristy Helmers, a senior dietetics major and soccer forward from Canberra, Australia, has been playing soccer for almost all her life.
Helmers is involved with the Nicholls International Community, as well as the Student Dietetics Association, but she said being on the soccer team is her favorite part of being at Nicholls State University.
"Being a part of the soccer team has always been my favorite part about Nicholls. It takes up a lot of your time, which isn't a bad thing," Helmers said.
Helmers started playing soccer when she was six years old, but she wasn't playing competitive soccer until she got to college.
"I've played all my life since I was six. It's never been as competitive as it's been here. College is much higher. It's a lot more physical over here in America, compared to back home," Helmers said.
Helmers said that the workout schedule here was more intense than what she was previously exposed to. She said that here, there is training every day and there are more weights.
Helmers said that there were many things soccer taught her, like discipline, time management and teamwork.
"It's had a lot of impacts, definitely a lot of discipline growing up. Even just being on time for things, we're trained in soccer to be early to everything that it just carries over to your life. Also, just working in a team, you get used to working with a lot of people and working together," Helmers said.
Helmers discussed what she feels are her accomplishments during her time here.
"Just coming here in general from home, I had to leave my family, and it was the first time I lived away from home. It forced me to grow up a bit. Also, soccer, playing at a higher level is definitely an accomplishment, just being a part of a high-quality team. Just in school, definitely being here is the best I've ever done in school. I think soccer has a lot to do with that. You want to do good in soccer and you want to do good in school," Helmers said.
Coach Danny Free discussed Helmers helping with the transitions of soccer players from other countries.
"It's always difficult because you don't have your family; you don't know anybody, so I think having other international students that are already there to help take you under their wing helps out a lot," Free said.
Francesca Curteis, a senior social studies education major from Llanfyllin, Great Britain, said that Helmers is very caring and funny and that she is a good role model in regards to soccer and academics.
Free also discussed how caring Helmers is.
"She's a good teammate, she cares about everybody. She'll make sure everyone is okay on the field; she'll make sure everyone is okay off the field," Free said.
Helmers said she is looking forward to the conference games this season.
"We start conference on Friday, and I'm definitely looking forward to that because those are the games that really matter. It's where all the hard work comes into after preseason, and throughout preseason games, that's what we work to. I'm just really looking forward to testing ourselves, especially with our new head coach, just having the best season we've ever had," Helmers said.
Leave a Comment
About the Contributor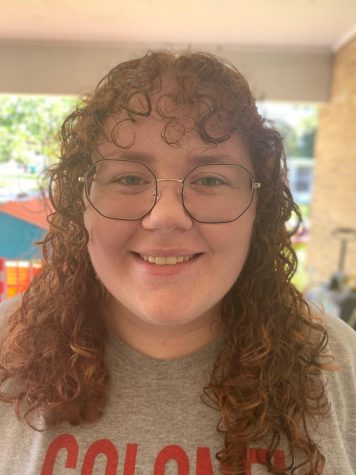 Jillian Landry, Magazine Manager
Fun Facts:

I love knitting and crocheting while watching crime shows, so basically I'm your average college-aged grandma. 


I love playing...