Volleyball Spotlight: Emily Venable
Emily Venable, a senior libero from Gonzales, brings a competitive energy to the volleyball team and is ready to see what this season brings.
Venable said she started playing volleyball in the fifth grade. She also said she played other sports growing up, but volleyball was the one that she found a love for.
Venable said volleyball is a team-oriented sport and that no matter what, one must have constant communication with her teammates and constantly be uplifting them. She said it's not a game that one can win by herself and that it's not possible to even attempt to win by oneself.
Kylie Lockhart, a sophomore defensive specialist from Friendswood, Texas, said that Venable is someone that the team can rely on and will just be there to support the other players when they think they did bad.
Volleyball head coach, Kallie Noble said that Venable is an incredible player and person. She said that Venable is a go-getter and is a leader on the court and in the classroom. She mentioned that Venable brings competitive energy and that she doesn't settle for anything less than 110%.
Lockhart said that Venable is a leader and that she is able to feed off of Venable's energy. She said that Venable was a good teacher for her last year and that they have become great friends.
"We're really great friends, and we've worked on our relationship on and off the court. I just think off the court, we're so great, and on the court, it's just made us better next to each other," Lockhart said.
Venable said she is the president of the Student-Athlete Advisory Committee, in the Pre-Medical Association and last year, she was the captain of the volleyball team. Venable received All-Tournament honors at the Mercer Bears Classic.
"There are things that I feel like I do them but they're my job to do. If you're a leader on the court, you have to be a leader in all your things," Venable said. "If you have a good work ethic on the court, you're going to have a good work ethic in everything you do."
Venable said this season, she is hoping for a championship win and ring. She said she is ready to see what they can do, and that they're taking it game by game and point by point.
Venable said that after graduating, she plans to eventually go to med school and become a doctor. She also said that after graduation, she will miss her teammates and playing volleyball.
"You always complain about the 5 a.m. weights or the 6 a.m. weights and the early practices or the sore body, but you leave for a week and you're like, 'I miss it and I want it back,'" Venable said. "I think that's something I'm going to miss– just the competition and just coming in the gym and leaving the smell of sweaty knee pads. It's just the nostalgia of it all."
Leave a Comment
About the Contributor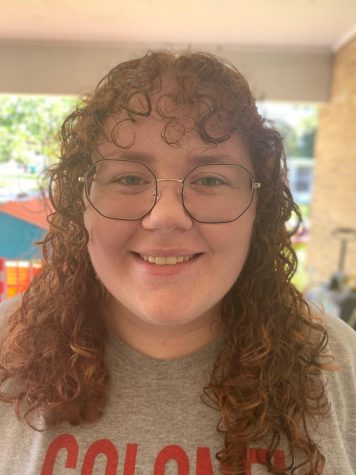 Jillian Landry, Magazine Manager
Fun Facts:

I love knitting and crocheting while watching crime shows, so basically I'm your average college-aged grandma. 


I love playing...