Colonels volleyball team prepares for a trip to Georgia
The Nicholls State University volleyball team is preparing for the Mercer Bears Classic in Macon, Georgia, this weekend.
The volleyball team will be competing against Mercer University, Campbell University and Georgia Southern.
Volleyball Head Coach, Kallie Noble talked about how all the opponents are going to be great for the team to compete against.
"Two out of the three have new head coaches, so I think their programs are kind of up and coming, and with me being a new head coach here, it will kind of give me a good assessment of where we are and what we need to work on over the course of the three following weeks before we start conference," Noble said.
Noble has been preparing the team for this tournament by having the team work on connections between setters and hitters while also looking to find a good combination of eight or nine players to rotate in the lineup.
Kate Hoerdemann, an outside hitter from Bloomington, Illinois, talked about how the team has been working on their blocking so that they can improve on that from last year.
Noble also talked about how the players can learn things at the tournaments that they can't learn here. She said that the team can learn how to scout live, versus watching film, and they can better learn how to assess their opponents before the games. She said the team can learn how to manage their diets and sleep schedule since they don't have to go to classes on those days.
Emily Gauthreaux, a sophomore from Houma, talked about some of the things the team does to get motivated for games. She said they will listen to music and dance in the locker room. She also talked about how if the team wins a conference championship, they will get a banner in Stopher Gym, so before games, the team will go stand under where they think the banner would be and point at that spot.
Gauthreaux said doing that this reminds them of their goal for the season.
Noble said that the team has already started working on their chemistry and bond but that being on the road will help the players build a stronger bond with each other and the coaches.
"It's always fun to be on the road, getting to eat all three meals together every day for several days in a row, allowing them to disconnect from their phones and be able to spend time with us coaches to get to know us on a personal level rather than coaches in the gym," Noble said.
Hoerdemann talked about how going on long trips allows the team to be on a bus or plane for long periods of time, and through this, they can converse with each other more than usual, learning more about each other and helping them build stronger bonds.
Leave a Comment
About the Contributor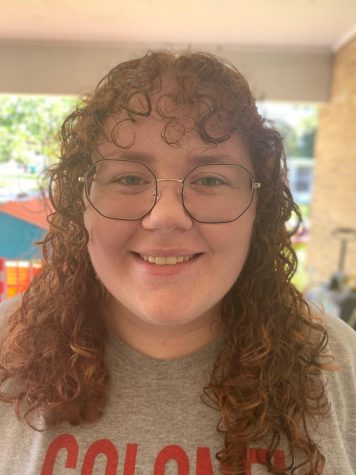 Jillian Landry, Magazine Manager
Fun Facts:

I love knitting and crocheting while watching crime shows, so basically I'm your average college-aged grandma. 


I love playing...