Soccer Spotlight: Jeanne Harson
Jeanne Harson, a senior Nicholls State University Soccer defender from Houma, Louisiana, has found a second family within the soccer team and is ready for the upcoming season.
Harson talked about how playing soccer has helped her learn how to keep trying and never give up.
"If I hadn't done soccer, I don't think that I'd be as mentally tough right now," Harson said.
She talked about what she did this summer to prepare for the upcoming season. She said that the coaches gave them a packet detailing what workouts they would do. She said her workouts included running and working out.
"I knew I had to go workout, so I think that had helped toughen me," Harson said.
Harson said she is looking forward to winning games this season. She said that the culture of the team has changed and the players are pushing each other to try harder and be better.
Coach Danny Free talked about how Harson brings positive energy to the team.
"She lightens the mood. When things can be bad, she brings humor, but she knows when it's time to work hard and get serious," Free said.
Tabea Czech, a freshman midfielder from Rüdesheim am Rhein, Germany, described Harson as being a leader and someone who helps control the game. She said that she is very helpful on and off the field.
Harson talked about how she considers it one of her accomplishments to be able to play minutes in a college game. She said one of the big things for her was accepting her role for each game.
"I've seen a few minutes in some games and I haven't seen any in some games. Just accepting my role," Harson said. "If I'm going to be on the bench, not looking at it as being hard because you come here for soccer. Accepting your role on the field or off the field and being there to support your teammates, cheering them on and hoping for the best."
Free talked about what he is expecting from Harson this season.
"I just hope that she knows her role, and she has a role on and off the field, and I just hope that she exceeds her expectations and our expectations," Free said.
Free said that he has been having conversations with her and that she has been wanting lots of feedback. He said that he is looking forward to seeing how she progresses through the season  because he can tell she wants to improve.
Harson talked about how playing soccer gave her a second family. She mentioned that she doesn't have sisters, and said the women on the soccer team have become her sisters. She said they recognize that they all struggle with things on and off the field and they are there for each other.
"Soccer has always been like a second home. This is a second family," Harson said.
Leave a Comment
About the Contributor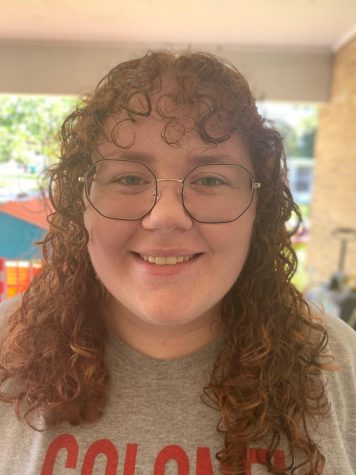 Jillian Landry, Magazine Manager
Fun Facts:

I love knitting and crocheting while watching crime shows, so basically I'm your average college-aged grandma. 


I love playing...