What it means for a band to take a political stance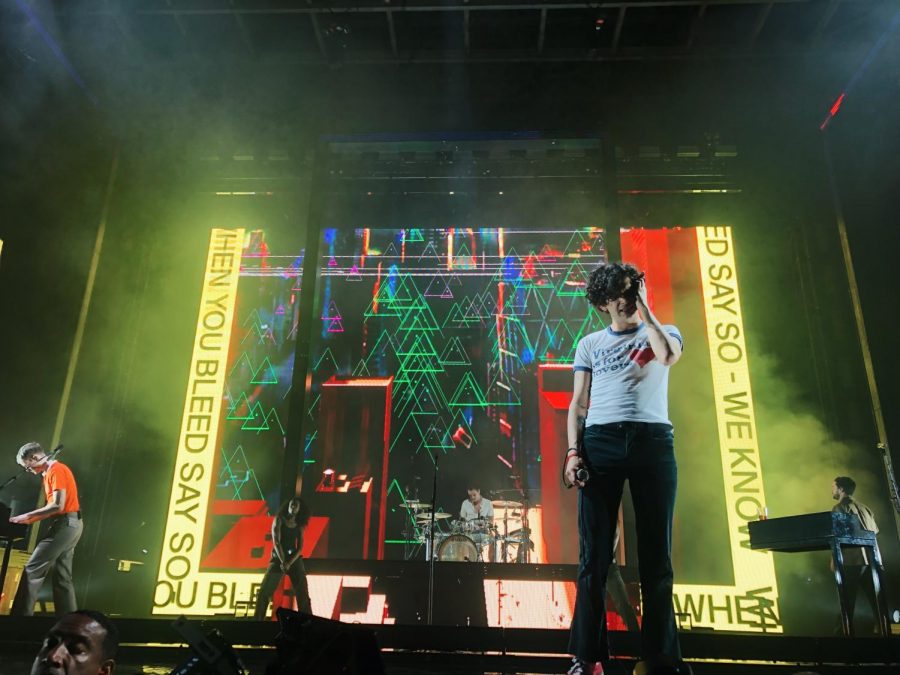 The 1975 is generating a great deal of hype for their upcoming album, "Notes on a Conditional Form."
They also have seemingly stepped out of their box in an attempt to inform their audience on the  current state of the world and call them to activism.
On July 24, they released a powerful track, "the 1975", featuring a Swedish climate activist, 16-year-old Greta Thunberg.
Thunberg can be heard delivering a spoken-word speech calling for action in regards to climate change. It is based on a speech she gave in 2018 entitled "Our House is on Fire".
This was an unexpected move from the 1975. On each album they have released, the intro tracks are titled "the 1975" and contain the same lyrics, only each respective album's version has a slightly different sound.
The subject matter and absence of the beloved "go down/soft sound" lyrics sets this track apart from its predecessors making it worth noting that this version bares no similarity to the others.
There is a staggering difference between this new emerging era and the previous self-titled album's black and white era and the pink sugary pop era of "I Like It When You Sleep for You Are So Beautiful Yet So Unaware of It."
The track's no-nonsense approach to the issue of climate change calls the audience to do the impossible in order to save Earth. There is no time for romantic lyrics or poppy instrumentals.
The band took a risk with this track, and one they did not have to take. This is not the typical song to add to a playlist or to listen to on repeat. In taking this risk, the 1975 brought attention to something that needed to be heard.
It was an unselfish promotion of a young girl's ideals that have the potential to set necessary change into motion. With today's political climate, it can be argued that when bands bring politics into the picture, certain fans may get uncomfortable.
However, this is far from the first time the group has gotten political. It is only the first time they have been so vocal and upfront about a specific controversial issue.
The song "Loving Someone" from the group's second album "I Like It When You Sleep, for You Are So Beautiful Yet So Unaware of It" became an LGBT+ pride anthem of sorts. After the Pulse Nightclub shooting in Orlando, the band began including a pride flag in their visuals when performing the song live.
The tracks "I Like America and America Likes Me" and "Love It if We Made It" featured on the 2018 album "A Brief Inquiry Into Online Relationships" serve as surreal reminders of the current state of the world. The former track highlights the issue of gun violence and the latter touches upon topics such as the deaths of child refugees, bizarre tweets from U.S. president Donald Trump, and includes the haunting and resounding line, "modernity has failed us."
In fact, a great deal of their promotional artwork for this album was related to modern technology and cell phone use, but also included surreal quotes such as "the left and right grow more apart, but you can just click 'add to cart'", marrying the topics of technology and modern political climate together.
When the band won a Brit Award for "Album of the Year" in 2019, frontman Matty Healy read aloud a quote from music critic Laura Snapes regarding the unfair treatment of women in the music industry in his acceptance speech.
With this being said, the 1975 are no strangers to using their platform to address certain important cultural issues.
This involvement can raise questions about whether or not their perspectives are to be listened to. After all, they are not the only musical artists expressing political opinions.
Artists such as Janelle Monae, Taylor Swift and John Legend have all in one way expressed their own ideals, be it online or in person.
It is easy for an artist to tweet about cultural issues or endorse specific political candidates, but alternatively, the 1975 are living out these beliefs. Their lyrics, artwork and concert visuals all help to bring issues to the forefront, and that is invaluable.
The 1975 are making a valiant attempt to facilitate change. They are using their platform to send a message; it all serves as a great call to action. 
The 1975 exemplifies that in facing realities that make us uncomfortable we can find the drive necessary to spark change.